Wild Trout Fisheries Management Program
Background
Anglers in north east Victoria have expressed concerns regarding the status of wild trout populations with reports of poor fishing across many streams, particularly during summer of 2013-14. Similar reports of poor fishing in wild trout streams have also been reported in locations outside Victoria including New South Wales, Tasmania and New Zealand.
In response to Victorian concerns, The Victorian Fisheries Authority commissioned Arthur Rylah Institute researchers to conduct population surveys of four north east trout streams in February 2014. The results were presented to a trout reference group, a public meeting in Mansfield and the state-wide Recreational Fishing Roundtable forum. In July 2014, a "Wild trout fisheries management program" was developed and later approved in September. It is a collection of nine projects over three years that aims to deliver: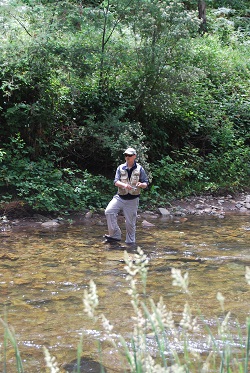 A clearer understanding of the cause(s) of the decline in wild trout fisheries,
Better understanding of of priority trout populations' health and status,
Improved engagement with fishers to share our understanding of trout fisheries management, science and factors that drive the fishery,
More responsive management of wild trout recreational fishing in Victoria, and
Improved fishing opportunities for wild trout in Victoria.
Principle questions being addressed
Click on the principle questions listed below for further project information:
Videos
View the Talk Wild Trout 2015 Conference presentation videos.
For a full copy of the Talk Wild Trout 2015 Conference proceedings, please email Taylor.hunt@vfa.vic.gov.au