Enforcement
Quick Links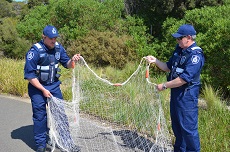 You can help ensure all Victorians have fish for the future by sticking to fishing regulations and reporting those who break the rules. 13FISH (ph. 13 3474) is a state-wide 24/7 fisheries offence reporting line. Reports from the community have led to a large number of convictions. Information has also assisted with ongoing investigations and the planning of compliance operations in the future.
Our uniformed and plain-clothes Fisheries Officers constantly perform spot checks all over Victoria, resulting in fines of up to $120,000, equipment confiscated, prohibition notices and penalties of up to 10 years in jail.
Persons found allegedly offending against the Fisheries Act are required by law to provide proof of their correct name and address. Failure to do so may result in arrest. Minor offences are usually handled by an infringement notice. More serious offences are processed through the court system.
Victorian fisheries legislation is available through Victorian Legislation and Parliamentary documents.