Your fishing licence fees at work
Making sure your contribution is put to good use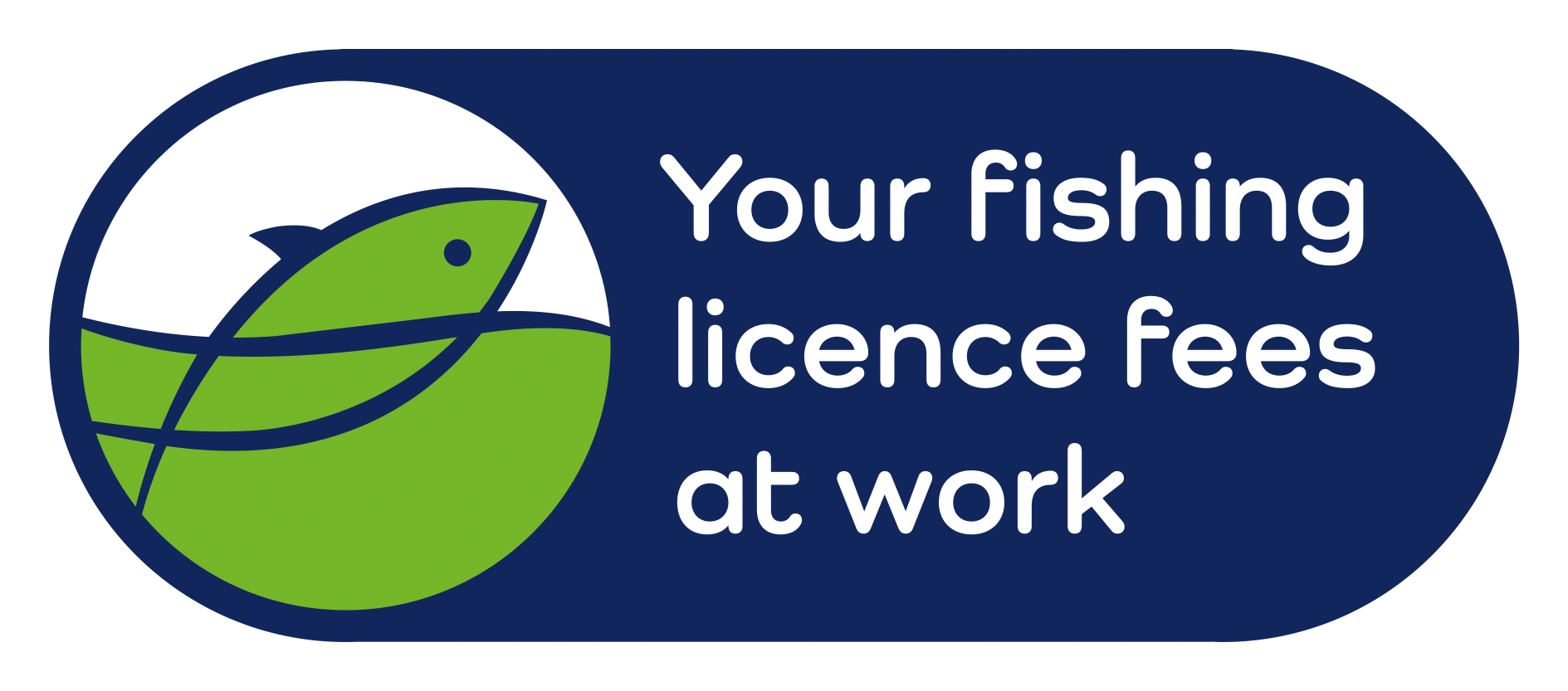 Every year the revenue that is collected from the sale of Recreational Fishing Licences is paid into the Recreational Fishing Licence (RFL) Trust Account, and the funds are then used for projects and activities that improve recreational fishing in Victoria in many ways.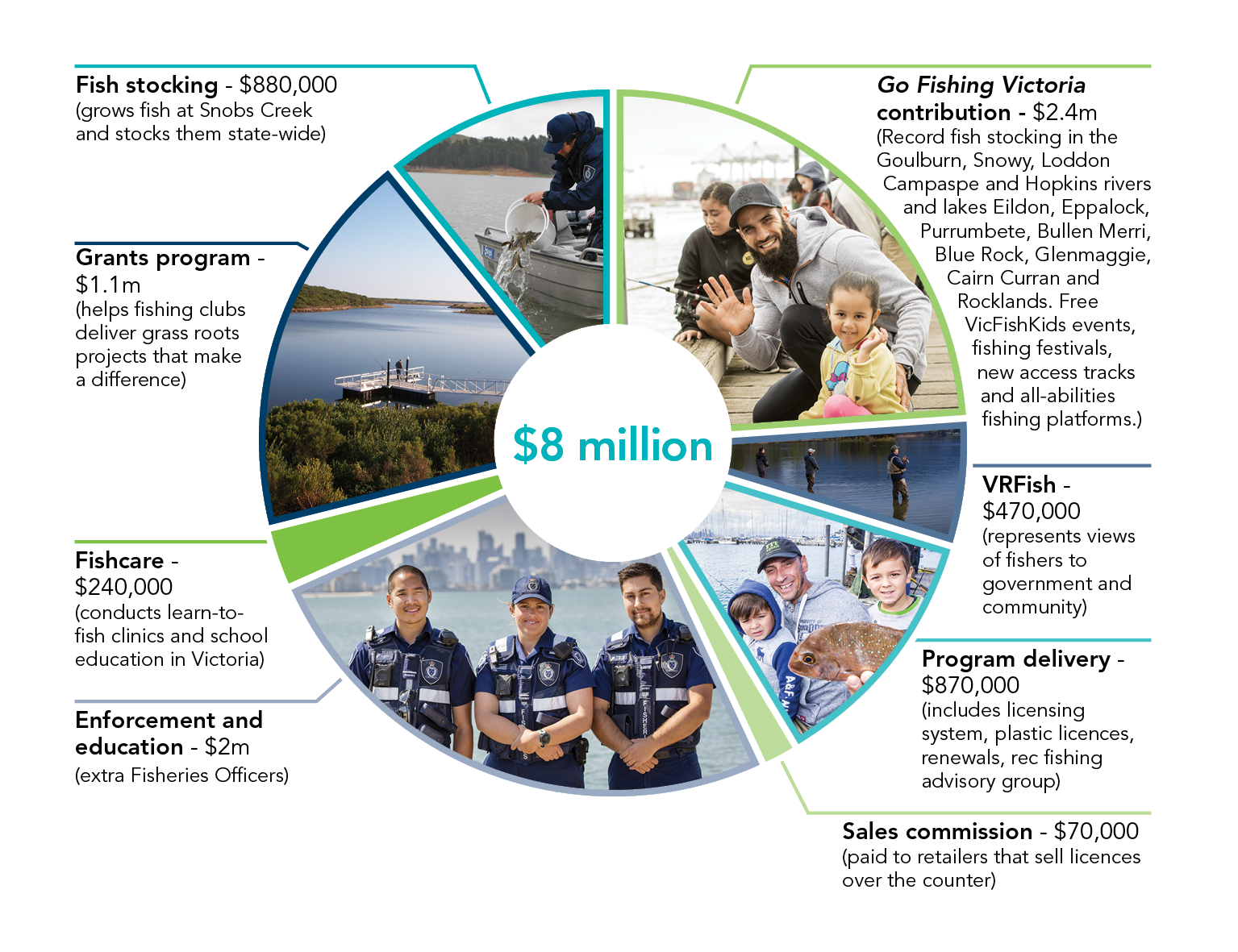 About $8 million of fishing licence fees is reinvested into programs to make fishing better for all Victorians.
From fish stocking, to extra fisheries officers, programs to improve facilities and fish habitat and educating fishers through Fishcare, your licence fees are hard at work to safeguard Victoria's fisheries for the future.
This year, the program marks 20 years of reinvesting your contribution. You can read all about what the money has been put toward by clicking here.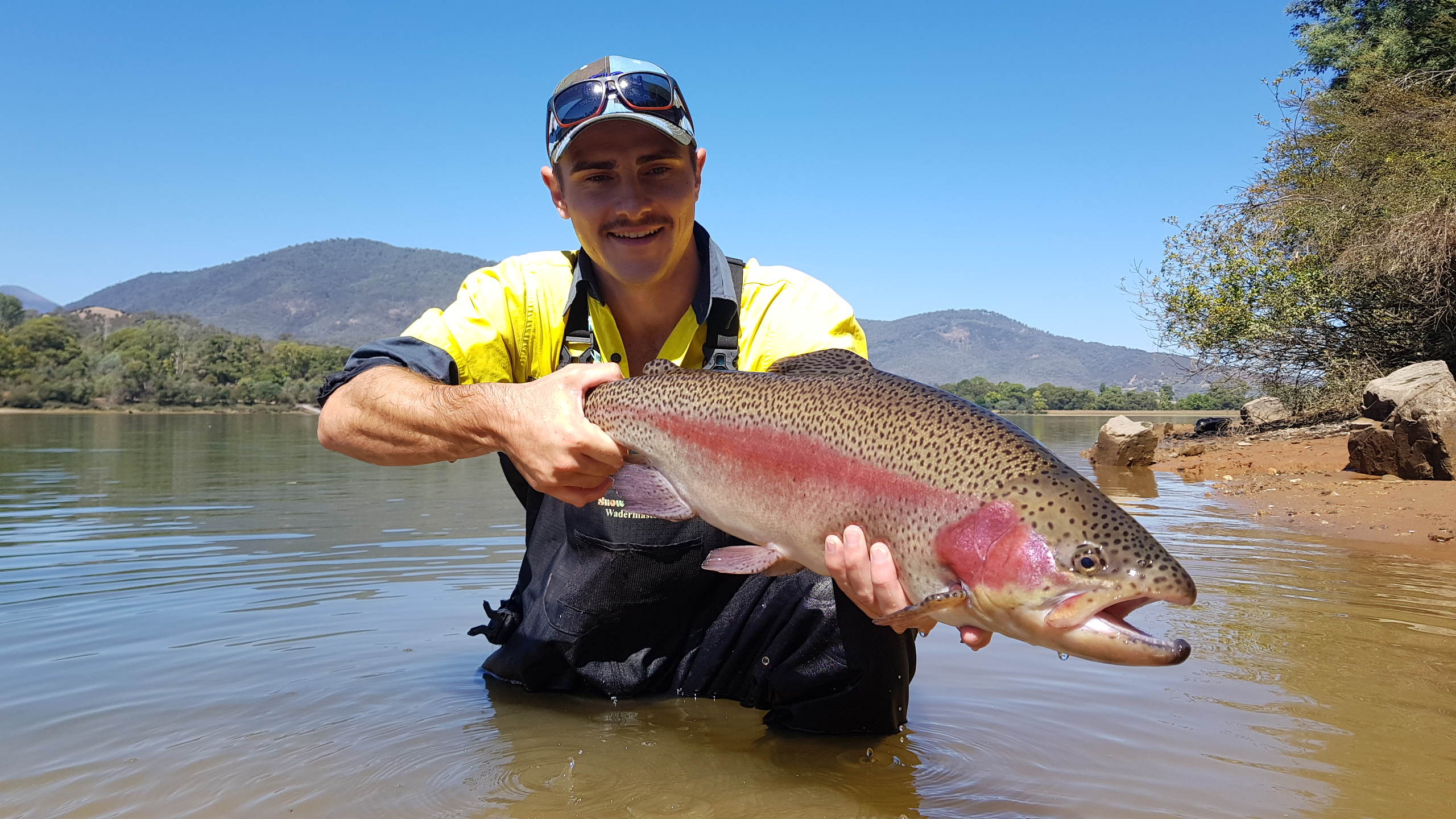 Your licence fees contribute significantly to the delivery of the recreational fisheries state-wide stocking program. They are used to operate the fish hatchery at Snobs Creek, meet costs associated with the delivery of fish across the state and for the purchase of additional fish from private hatcheries.
Recreational fishers across the state benefit from these stockings, which include huge numbers of Murray cod and golden perch released into iconic waters such as the Goulburn River, Lake Eildon, Lake Eppalock, Rocklands Reservoir, and brown trout and chinook salmon into the renowned crater lakes, Bullen Merri and Purrumbete.
Also very popular are the thousands of rainbow trout that are released into hundreds of smaller lakes as part of our Family Fishing Lakes Program. We're targeting an ambitious goal of stocking 10 million fish per year in Victoria by 2022, including a record 8 million fish stocked this season.
Fishcare
Fishcare Victoria is a community based not-for-profit organisation promoting responsible and sustainable fishing practices.
Whether through their new 'Get Hooked On Fishing' app, through their extensive school education programs, or at a range of events held across the state, Fishcare provides valuable education to inspire the next generation of fishers.
Rec Fishing Grants
The Recreational Fishing Grants program allows a wide range of organisations and community groups to put licence fees to work on projects to improve fishing in their local area.
Whether it's instream habitat, upgraded facilities, research projects or providing more fishing information, the grants program funds this vital work.
The program incorporates small and large grants, and is overseen by the Rec Fishing Working Group.
VRFish
Recreational fishing advocacy body VRFish is supported through your fishing licence fees and provides a strong voice supporting rec fishers.
You can learn more about VRFish's work at their website.
Fishing licence fees support the education of fishers and the enforcement of Fisheries Regulations through funding 13 extra Fisheries Officers to ensure everyone is doing the right thing.
Fisheries Officers are based in locations across the state and make sure fishers are complying with regulations when wetting a line, whether chasing trout in a mountain stream or offshore targeting a monster tuna.
You can read more about the role of Fisheries Officers here.
Sales
A portion of your fishing licence fees goes back to businesses who sell fishing licences over the counter.
Getting more people fishing, more often
The Victorian Government is investing $35 million to get more Victorians fishing more often, in more places.
The Government's plan is into its second phase with a role of initiatives designed to get families involved in fishing and improve it for everyone from the casual fisher to the die-hards.
The program ranges from restoring the Gippsland Lakes to a recreational fishing mecca, opening up boating access to central Victorian lakes, providing a clear path for families to camp on crown water frontage and much more.
Program delivery
To make it easy for people to follow the rules, your fishing licence fees are reinvested into providing tools such as the Rec Fishing Guide, fish measures, plastic licences and more.
The work of the Rec Fishing Licence Trust Advisory Committee is also funded as part of this, to help inform decision making on projects to improve fishing.