Better Handling for Murray Cod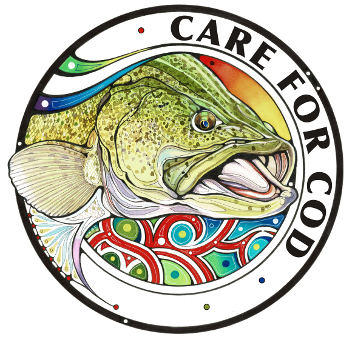 Murray cod are our most iconic native freshwater fish and the good news is that their population is bouncing back thanks to record stocking, river restoration, tighter catch limits, more responsible angler practices and cracking down on illegal fishing.
But there's more we can do!
The slot limit, introduced in 2014, requires all Murray cod over 75cm and under 55cm to be released. For that to really work though, the released cod must live!
That's where better handling practices come in.
With help from an expert aquatic veterinarian, published science and practical advice from leading freshwater anglers, we've developed a 4 point plan to care for cod.
Be prepared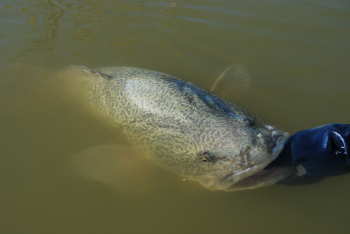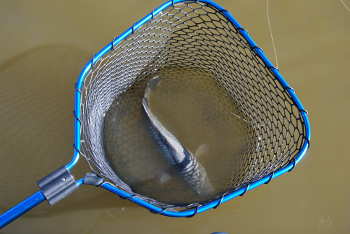 Landing a big Murray cod, removing the hooks, photographing it, then reviving and releasing it, all requires careful planning and the right gear.
Good organisation will ensure a quick release, minimise stress and maximise the cod's chances of surviving the encounter.
So:
Use a soft knotless or rubber landing net
Have sturdy gloves close by to protect your hands and to grip the lower jaw
Avoid lip grippers that bruise or damage the cod's mouth and jaw structure
Use long nosed pliers to safely remove hooks quickly
Ensure fish length measures are ready to go. Don't forget to wet them down prior to placing fish in them
Have your camera or GoPro ready and functions pre-set.
Reduce air time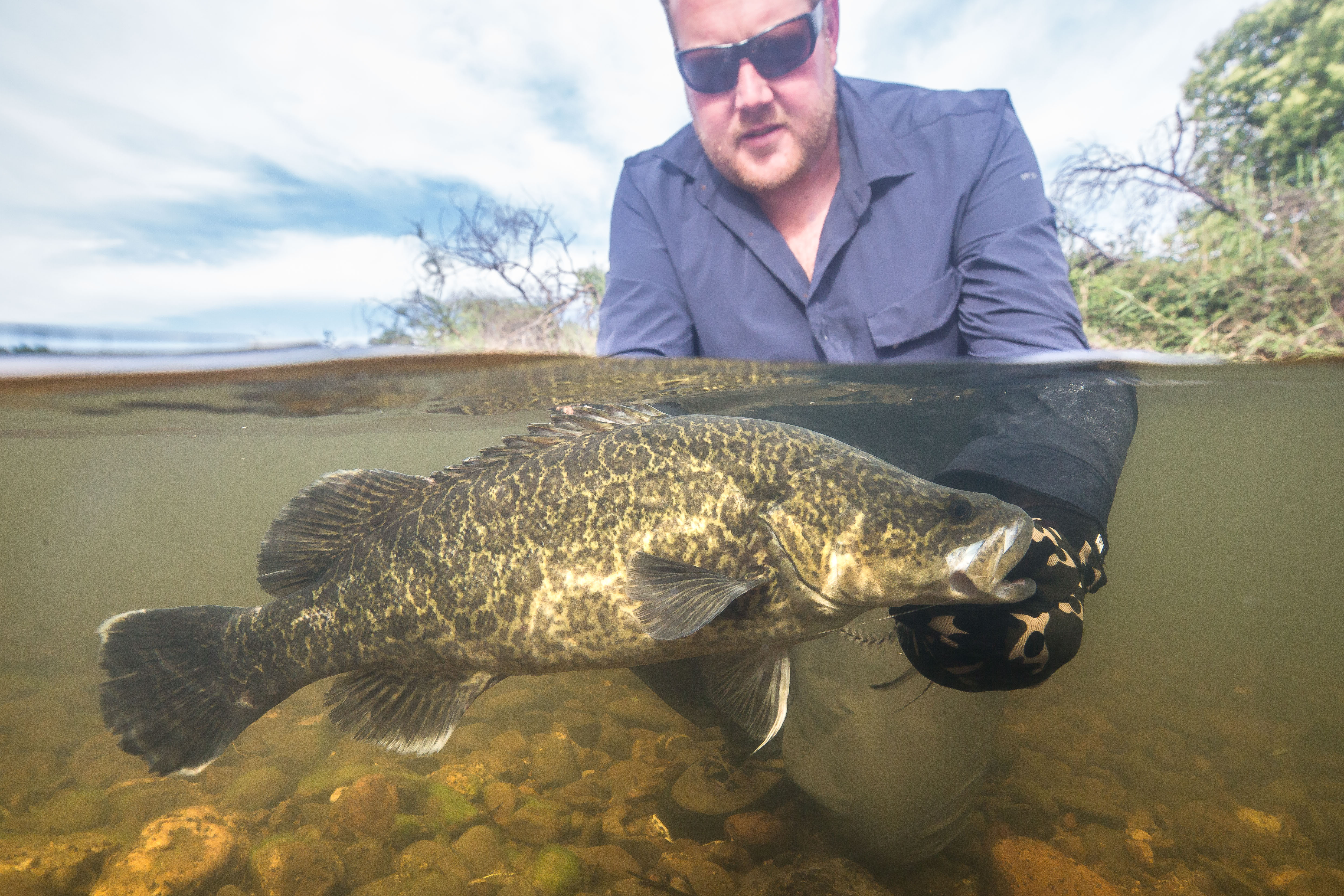 A fish can't breathe out of water so they need water and time to recover.
If possible, keep your cod in the water at all times.
If safe to do so, get in the water with your prized fish for a great photo.
If you decide the lift the fish out of the water, do it gently and quickly and aim for 30 seconds or less air exposure.
Gently does it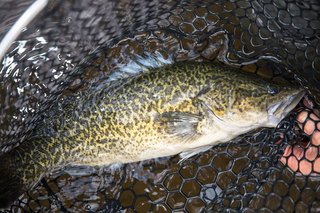 If lifting a cod, support the whole fish and don't hang the fish vertically, which can damage the spine and gills.
Protect the skin by not placing the fish on dry, sharp or hot surfaces.
Revive the fish slowly to get water flowing over the gills. Avoid moving the fish backwards and forwards.
Be mindful that survival is lower in hot weather and warm, shallow water.
Use the right gear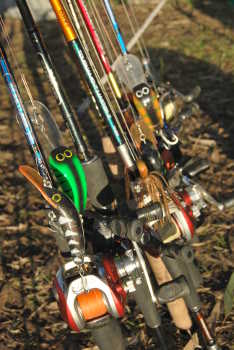 A big cod on light line is more likely to get exhausted so use line classes and tackle that lands cod quickly and doesn't unnecessarily prolong the fight.
When fishing with bait, use large circle hooks (and a tight line) to reduce the chance of deep hooking.
Other tips
When they're on the nest, give them a rest
During springtime when Murray cod are on the nest, give them a rest and target other species like golden perch or redfin.
While stocking programs help replenish cod populations, there is substantial breeding of wild cod in many waters that contribute to the fishery. Let them be during the three month closed season (except Lake Eildon, which is open year-round).
Care for Cod merchandise
Care for Cod merchandise is available in limited quantities at the following stockists.
Store / Location
Location
Address
Post Code
Phone
Melbourne
Compleat Angler
Campbellfield
534 Mahoneys Road
3061
(03) 9357 2233
Cranbourne Tackleworld
Cranbourne
270 South Gippsland Highway
3977
(03) 5996 6500
BCF Epping
Epping
Unit 9/500 High Street
3076
(03) 9408 9323
Noel Clark's Tacklebar
Essendon
158 Deakin Street
3040
(03) 9379 4623
Hooked On Bait & Tackle
Hoppers Crossing
174/182 Old Geelong Road
3029
(03) 9748 3811
Trelly's
Laverton
Unit 4/37-39 Little Boundary Road
3026
(03) 9314 4900
Aussie Angler
Montmorency
30 Sherbourne Road
3088
(03) 9432 1501
Mornington Tackleworld
Mornington
2/177 Mornington-Tyabb Road
3931
(03) 5975 7500
Compleat Angler
Ringwood
27 New Street
3134
(03) 9870 7792
Compleat Angler
Rosebud
11 Boneo Road
3939
(03) 5981 1994
BCF Taylors Lakes
Taylors Lakes
Unit 11/2B Water Gardern Super Centre, 399 Melton Highway
3038
(03) 8361 6559
Central
Lyal Eales Stores
Castlemaine
179-181 Barker Street
3450
(03) 5472 4422
Gippsland
Mitchell Fishing and Outdoors
Bairnsdale
196 Main Street
3875
(03) 5152 4524
Allways Angling
Traralgon
Shop 1/29 Church Street
3844
(03) 5174 8544
North East
Totally Trout Fishing Centre
Alexandra
42 Downey Street
3714
(03) 5772 2662
Benalla Bait & Tackle
Benalla
191 Bridge Street East
3672
(03) 5762 3704
Cobram Outdoors & Disposals
Cobram
24 Bank Street
3644
(03)5872 2363
Eildon Bait & Tackle
Eildon
8/8 Main Street
3713
(03) 5774 2348
Snowy Mountain Rug Co
Mansfield
165 Mt Buller Rd, Mansfield VIC 3722
3722
(03)57751105
Mansfield Hunting and Fishing
Mansfield
17 High Street
3722
(03) 5779 1685
Intents Fishing & Outdoors
Mulwala
8/97-103 Melbourne Street
2647
(03) 5743 1800
Nagambie Outdoors
Nagambie
2/263 High Street
3608
(03) 5794 2251
BCF Shepparton
Shepparton
280-290 Benalla Road
3630
(03) 5822 4963
Trelly's
Shepparton
209 Corio Street
3630
(03) 5821 6572
Adventure Camping & Fishing
Wangaratta
14 Rowan Street
3677
(03) 5722 4622
BCF Wodonga
Wodonga
255 Victoria Cross Parade
3690
(02) 6024 1434
Bluey's Hunting & Fishing
Wodonga
3/65 Thomas Mitchell Drive
3690
(02) 6056 1259
Yarrawonga Fishing & Outdoors
Yarrawonga
61 Belmore Street
3730
0439 441 667
North West
Hartley's Hunting & Fishing
Bendigo
8 Stafford Street
3556
(03) 5443 5669
Cohuna Fishing & Camping
Cohuna
1D Cullen St
3568
(03) 5456 4566
Compleat Angler Echuca
Echuca
72 Northern Highway
3564
(03) 5482 1992
Webbcon Marine
Horsham
17 O'Callaghans Parade
3400
(03) 5381 0600
Wimmera Outdoors
Horsham
56 Wilson Street
3400
(03) 5382 1403
BCF Kangaroo Flat
Kangaroo Flat
239-249 High Street (Rocklea Homemaker Centre)
3555
(03) 5447 3751
Kerang Sports & Toys
Kerang
41 Victoria St
3579
(03)54521316
Loddon Valley Disposals
Kerang
61 Victoria Street
3579
(03) 5452 1172
Lyal Eales Stores
Maryborough
29 Maryborough Dunolly Road
3465
(03) 5461 4222
Lyal Eales Stores
Maryborough
178 High Street
3465
(03) 5461 1911
BCF Mildura
Mildura
728 Fifteen Street
3500
(03) 5023 2107
Mildura Outdoor & Tackle
Mildura
103 Lime Avenue
3500
(03) 5022 8444
JC's Bait & Tackle
Swanhill
488 Campbell Street
3538
(03) 5033 0407
Swan Hill Fishing and Shooting Supplies
Swanhill
41 Campbell Street
3538
(03) 5032 4378
South East
Alpine Country Tackleworld
Sale
82 MacArthur Street
3850
(03)51447505
South West
Lyal Eales Stores
Ararat
145 Barkly Street
3377
(03) 5352 3905
H. Rehfisch & Co
Ballarat
903 La Trobe Street
3350
(03) 5331 3677
Parker W H & Co
Colac
220 Murray Street
3250
(03) 5231 2401
BCF Geelong
Geelong
470 Princes Highway
3214
(03) 5275 0238
Compleat Angler Geelong
Geelong
205 Melbourne Road
3215
(03) 5272 3201
Trelly's
Geelong
105 Shannon Avenue
3218
(03) 5222 3257
Mario's Fresh Bait
Geelong
11 Noel Street
3221
(03)52485201
Lake Purrumbete Tackle Store
Koallah
540 Purrumbete Estate Road
3260
(03) 5594 5377
Compleat Angler Portland
Portland
61 Bentinck Street
3305
(03) 5521 1844
Portland Bait & Tackle
Portland
111a Bentinck Street
3305
(03) 5523 5213
Lyal Eales Stores
St Arnaud
59-61 Napier Street
3478
(03) 5495 2021
Lyal Eales Stores
Stawell
113 Main Street
3380
(03) 5358 5782
Youngs Sport Store
Stawell
146 Main Street
3380
(03)53581038
Richardson Marine
Warnambool
1058 Raglan Parade
3280
(03) 5562 6373
BCF Warrnambool
Warrnambool
T4 Princess Highway
3280
(03) 5561 0405
BCF Waurn Ponds
Waurn Ponds
Unit195/203 Colac Road
3216
(03) 5245 7947
BCF Wendouree
Wendouree
Unit 11/333 Gillies Street
3350
(03) 5339 8011