Fishing Safety
Wind Warnings and Forecasts
Always check the latest forecast before you go on the water. Visit Bureau of Meteorology - Marine Weather.
Safe Boating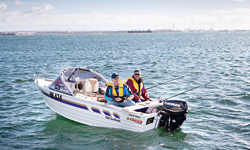 Safety tips when boating:
Check the weather forecasts. Consider postponing your trip if weather is unfavourable and avoid areas exposed to high wind and waves.
Ensure your boat is properly maintained, the battery is fully charged and you have enough fuel on board.
Seek up-to-date local knowledge and obtain a copy of the appropriate chart or map for the area you will be navigating.
Always let someone know where you are going and when you plan to return.
Ensure you have the correct safety equipment aboard your boat and you know how to wear it correctly.
Lifejackets save lives – wear a lifejacket.
Observe speeds and distances.
Operate at a safe speed and always maintain a good lookout.
Don't drink alcohol while boating.
For information about boating safety visit Maritime Safety Victoria or call 1800 223 022 for a copy of the Victorian Recreational Boating Safety Handbook.
Rock fishing

Safety tips when rock fishing:
ALWAYS tell friends or family of your plans – where you are going and when you will be returning.
SEEK out local advice on your intended fishing spot – tidal behaviour and accessibility.
NEVER fish alone. One person should watch the sea at all times as conditions can change dramatically in a short time.
CHECK water and weather conditions before you go.
WEAR a personal flotation device and carry safety gear and a first-aid kit.
DON'T wear waders when rock or ledge fishing – wear light clothing that will allow you to swim easily if you are washed in.
WEAR appropriate footwear with non-slip soles.
OBSERVE first and fish later. Take time to judge your intended spot before fishing to get an idea of tidal and sea conditions plus access and escape routes.
HAVE an escape plan. If the swell threatens your position, leave immediately.
ALWAYS obey danger signs and never trust access and escape aids such as ropes and makeshift steps.
NEVER turn your back on the sea.
The Victorian Government's Play it Safe by the Water campaign is actively working towards increasing community awareness of water safety. For information visit Water Safety.
Environmental mercury in fish - Lake Eildon (south) and the Upper Goulburn River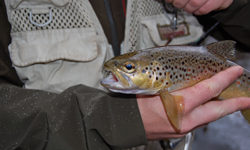 Some waterways contain mercury in the sediments as a result of historical gold mining activities. Fish varieties that are long-lived or predatory (eat other fish) and live in these areas may accumulate high levels of mercury.
The Department of Health has produced a fact sheet for anglers who fish in the southern half of Lake Eildon or the Upper Goulburn River (above Lake Eildon) and eat their catch. It recommends the number of servings of certain fish varieties that may be safely eaten per week or fortnight by different members of the community.
Mercury in fish - Lake Eildon (south) and the Upper Goulburn River