13FISH intelligence reporting line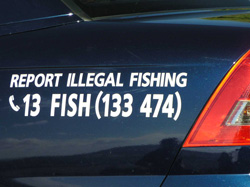 If you see or suspect illegal fishing activity, you can call 13FISH (13 3474) to report it to The Victorian Fisheries Authority.
Helpful information includes:
time and date of activity
place
is the observed activity continuing or finished
number of people involved
vehicle or boat registration numbers
nature of activity
equipment involved
All information will be treated in strict confidence and assist in planning patrols and enforcement operations when no immediate field response is possible.
The 13FISH line has had a major impact on organised abalone poaching, illegal fishing in marine parks and netting offences.