Wild trout populations and breeding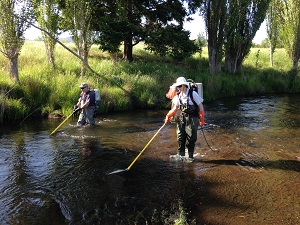 Project 2. Is there a decline in wild trout populations and breeding?
Wild trout populations rely on natural recruitment of young fish into the population to maintain stocks. Monitoring trout populations, especially looking at fish numbers and for evidence of young fish and upcoming year classes, provides insights into the health of the population and may highlight management intervention opportunities.
Action: Conduct annual fish population surveys of 12 priority rivers (3 - 4 sites in each) to provide a health check report card of each river with respect to historical trout population information.
How will this help? While substantial monitoring has occurred in the past, limited monitoring of trout populations has been undertaken in the last 5-10 years. Recommencing annual fish population surveys will inform anglers and fisheries managers of the relative health of key wild trout populations. The results can be compared to past surveys. Understanding trout population trends and performance indicators (e.g. recruitment (spawning), growth and condition factor) will help fishers decide where to fish and enable more responsive and targeted fisheries interventions should they be needed e.g. protect spawning habitat, habitat restoration.
The rivers to be surveyed in 2014/15 are:
| | |
| --- | --- |
| Upper Goulburn River | Aire River |
| Howqua River | Dargo River |
| King River | Nariel Creek |
| Ovens River | Upper Mitta Mitta River |
| Kiewa River | Upper Yarra River |
| Jamieson River | Toorongo River |