About the Guide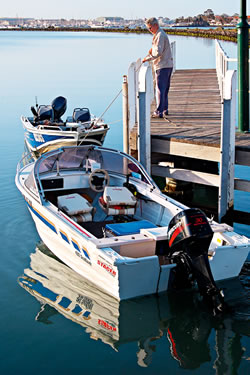 This fishing guide was produced by the former Department of Environment and Primary Industries. Please contact The Victorian Fisheries Authority (VFA) if you wish to make comments about the guide or to obtain further copies.
For more information about DEDJTR, call the Customer Service Centre on 136 186.

ISSN 1442-7494
Copyright © The State of Victoria, (former) Department of Environment Primary Industries, 2015. This publication is copyright. No part may be reproduced by any process except in accordance with the provisions of the Copyright Act 1968.
All requests and inquiries should be directed to the Customer Service Centre (telephone 136 186) or via the feedback form.
Authorised by Jaala Pulford, 1 Spring Street, Melbourne
Design, production, print management & advertising sales:
The Slattery Media Group (03) 9627 2600
1 Albert Street, Richmond, Victoria, 3121
Project Manager:Belinda Lorensini, Department of Economic Development, Jobs, Transport and Resources.
Photographs: Michelle Couling (cover), Marc Ainsworth, Mark Gibson, Friends of Beware Reeef, CRIMP, CSIRO Marine Research, T. BogueIllustrations: Alexis Beckett, Krystii Melaine, Paul Lennon, NSW Department of Primary Industries, © R.Swainston/anima.net.au, AFN/Trevor Hawkins
Front cover: Georgia and Hamish Robinson, St Kilda Marina/boat ramp
This publication may be of assistance to you, but the State of Victoria and its employees do not guarantee that the publication is without flaw of any kind or is wholly appropriate for your particular purposes and therefore disclaims all liability for any error, loss or other consequences which may arise from you relying on any information in this publication.
This publication is a guide only, it does not replace the Fisheries Act 1995, the Fisheries Regulations 2008 or other Acts and subordinate legislation applying to, or affecting recreational fishing. This guide summarises the law at the time of publication and cannot be used as a defence in court. Fishing laws change from time to time. It is your responsibility to ensure that you are acting within the law.
Subscribe online to the fortnightly Fish-e-Facts electronic newsletter for recreational fishers.