Summer temperature impacts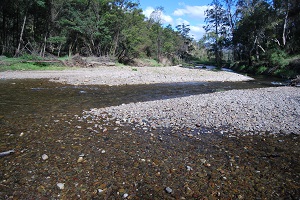 Project 1. Are summer temperatures adversely impacting river trout fisheries?
Trout are a cold water fish species and high summer water temperatures can reduce feeding and increase mortality. It is not known how trout respond (behaviour, movement and mortality) in Victorian streams experiencing high summer water temperatures.
Action: Conduct a trout tracking study using acoustic tags and listening stations in the Delatite River to determine how river trout respond to annual fluctuations in water temperatures e.g. mortality or movement. If they are moving, where are they going?
How will this help? The trout behaviour study will help anglers and fisheries managers understand the behaviour of trout in response to water temperature. Anglers may be able to adapt their fishing practices in response to trout movement. Fisheries managers, in conjunction with climate experts, will better understand how water temperatures affect the fishery in the future.
Year 1 results
Summer temperature impacts - Year 1 (PDF - 569.9 KB)
Summer temperature impacts - Year 1 (WORD - 3.3 MB)