Rock lobster science tag-recapture program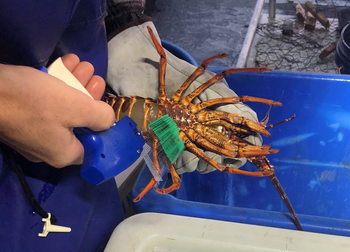 This program aims to help inform future fisheries management through the collection and analysis of rock lobster movements and growth rates.
Scientists collect the rock lobsters and record their length and sex, before inserting a small, plastic T-bar tag into the lobsters' tails. Each tag has a unique 6 digit number which will identify individual lobsters when they are recaptured at a later date.
VFA scientists have been conducting this tagging program for more than 20 years, and the growth and location data we get from it is invaluable to fisheries management. Fishers should report the details of any tagged lobster they catch.
How to report a tagged rock lobster:
Call Customer Contact Centre – 136 186 + select "0"
Then, provide as many of the following details as possible:
Your name
Contact details (phone/email)
Tag number
Date of capture
Carapace length (mm)
Lobster sex
Location (GPS preferred)
Depth (m)