Rock fishing safety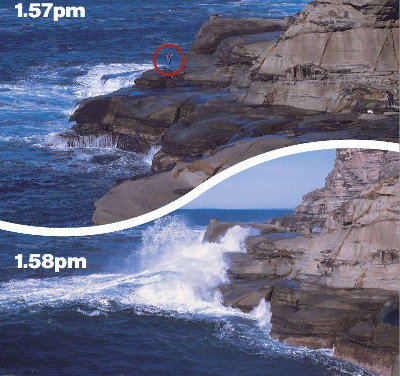 Rock fishing is popular but is one of Australia's most dangerous sports. On average there are about 8 rock fishing related deaths per year.
It is important to follow some basic safety tips when rock fishing. Make good choices.
Tips for staying safe while rock fishing
Further information about rock fishing, including information in other languages
Stay safe when rock fishing by following these simple tips:
Use the right gear
Always wear a life jacket
Wear shoes with non-slip soles
Wear light clothing
Carry a mobile phone, rope and float with you
Always have back up
Never fish alone – always fish with a group a friends
Tell someone where you are and when you will be back
If your plans change, let someone know
Know the conditions
Know the tide and weather. If conditions worsen find a calmer, more sheltered spot – or go home
Ask local people for advice
Watch first, fish later
Plan an escape route in case you are washed in
Never turn your back on the sea
Survive
Do NOT jump in if someone is washed into the water
Dial 000 or 112 on your mobile phone or go get help
Use a rope or something that floats to rescue the person
If you're swept in, don't panic. Stay calm and swim away from the rocks
If there's an Angel Ring (life ring, life buoy) nearby, know how to use it.
Further information about rock fishing
Educational material and videos produced by Life Saving Victoria using fishing licence fees: www.lsv.com.au/research/rock-fishing/
Don't put your life on the line – resources and links to make your fishing safer: www.safefishing.com.au
Rock fishing safety in multiple languages:
https://lsv.com.au/pdf/Multilingual_Rock_F_DL.ind.pdf
Images and videos from Transport Safety Victoria
http://transportsafety.vic.gov.au/maritime-safety/recreational-vessel-operators/latest-videos
Weather information:
www.bom.gov.au/marine/about/check-rock-fishing.shtml (These pages are also translated into traditional and simplified Chinese, Vietnamese, Korean and Malay)