Fish Stocking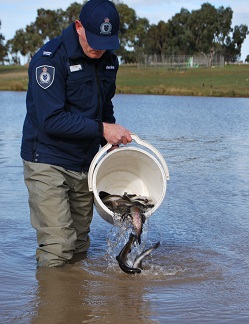 The Victorian Fisheries Authority stocks fish to improve recreational fishing opportunities in lakes and rivers, and help the recovery of threatened species such as trout cod and Macquarie perch.
The annual regional consultative meetings (Vic Fish Stock) provide a forum for discussion on fish stocking regimes, fish population surveys and other related recreational fisheries management issues. To access the reports from 2005 - present see Vic Fish Stock reports.
Trout stocking
For a list of salmonid (trout and salmon) stocking in Victorian waters by the Victorian Fisheries Authority, including our Family Fishing Lakes stocked for the school holidays, see:
Salmonid Fish Releases 1987 through to present
Native fish stocking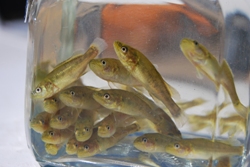 For an historical list of native fish stocking in Victorian waters by The Victorian Fisheries Authority see:
Marine stocking
Marine stocking is being trialed in Victoria. A Victorian first stocking trial of dusky flathead fingerlings occurred in early 2021 as part of the Gippsland Lake Recreational Fishery Plan. In 2015 and 2016 Lake Tyers and Tamboon Inlet were stocked with mulloway. Lake Tyers also received a stocking of estuary perch. Eastern king prawns were also stocked into Lake Tyers in 2013.
A preliminary assessment of Marine Stocking in Victoria
Prevously, Dr Matt Taylor from the University of New South Wales has completed an initial assessment of the feasibility of marine stocking in Victoria. The report outlines an assessment of twelve estuaries which may be suitable for future stocking consideration. A copy of the report can be found at the following link: Marine Stocking in Victoria
Fish in Farm Dams
Stocking fish in farm dams for personal use, such as recreational fishing, is a popular and rewarding pastime in Victoria. However, it is important to stock the appropriate species of fish for your area. Fish that are local to your area are more likely to survive and thrive in your dam.
If you decide you would like to stock your farm dam, please visit the Fish in Farm Dams webpage.