Fish Stocking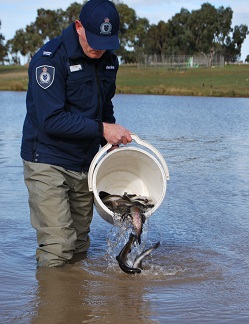 Trout stocking
We release trout and salmon into Victoria's public waterways generally between April and November each year. Most of these fish are released into lakes and impoundments where they provide enhanced recreational fishing opportunities for anglers.
Most trout and salmon stocked by the Authority are released as yearlings weighing between 30 and 60 grams (10 cm in length), for put-grow-and-take fisheries. Small numbers of larger trout are stocked during holiday periods for direct put-and-take fisheries in small lakes and ponds close to urban and regional centres.
The annual regional consultative meetings (Vic Fish Stock) provide a forum for discussion on fish stocking regimes, fish population surveys and other related recreational fisheries management issues. To access the reports from 2005 - present see Vic Fish Stock reports.
For an historical list of salmonid stocking in Victorian waters by the Victorian Fisheries Authority see:
Salmonid Fish Releases 1987 through to present
In many streams, trout fisheries are based on self-sustaining wild stocks. All aquatic organisms that are stocked into Inland waters must comply with the Protocols for the Translocation of Fish in Victorian Inland Public Waters.
For further information about trout stocking in Victoria see:
Native fish stocking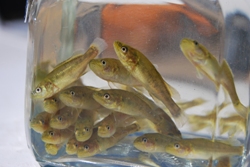 Between November and April each year, we stock native fish fingerlings. These fish average about one gram each. Snobs Creek breeds some Murray cod, trout cod and Macquarie perch for stocking and the rest of the fish required for stocking, such as golden perch, silver perch and additional Murray cod purchased from commercial fish growers. These species are native to the Murray-Darling Basin and are thus stocked north of the Great Dividing Range. More recently, selected lakes and streams in Gippsland have been stocked with Australian bass which are native to the coastal flowing streams east of Wilsons Promontory. Estuary perch, a close relative of bass, have also been stocked in a number of coastal drainage waters in the state.
For an historical list of native fish stocking in Victorian waters by The Victorian Fisheries Authority see:
Stocking summary
View the fish stocking summary table.
Marine stocking
Marine stocking is being trialed in Victoria. In 2015 and 2016 Lake Tyers and Tamboon Inlet were stocked with Mulloway. Lake Tyers also received a stocking of estuary perch.
A preliminary assessment of Marine Stocking in Victoria
Dr Matt Taylor from the University of New South Wales has completed an initial assessment of the feasibility of marine stocking in Victoria.
The report outlines an assessment of twelve estuaries which may be suitable for future stocking consideration.
A copy of the report can be found at the following link: Marine Stocking in Victoria
Fish in Farm Dams
Stocking fish in farm dams for personal use, such as recreational fishing, is a popular and rewarding pastime in Victoria. However, it is important to stock the appropriate species of fish for your area. Fish that are local to your area are more likely to survive and thrive in your dam.
If you decide you would like to stock your farm dam, please visit the Fish in Farm Dams webpage.