Macquarie perch recovery - let's get serious about the recovery of Maccas
The VFA, under the Freshwater Fisheries Management Plan, has a commitment to the recovery of our freshwater fish species. Now is the critical moment to secure the survival of Maccas. The VFA is working with partners using an integrated approach to make this a reality. Only by working together can we safeguard the future of this unique and iconic species
Historically, Macquarie Perch Macquaria australasica ('Maccas') were once an abundant and widespread native fish species throughout the south-eastern Murray-Darling system. However, Maccas are now nationally endangered and are fighting for their survival, with serious implications for Australia's freshwater biodiversity. Australia-wide only a handful of self-sustaining wild Macca populations remain in isolated and disconnected waterways.
The Victorian Fisheries Authority, together with key partners, have worked hard over a number of years to rebuild and re-establish Macquarie perch populations. We've invested significant resources into production and stocking, habitat restoration, and research to better understand the species.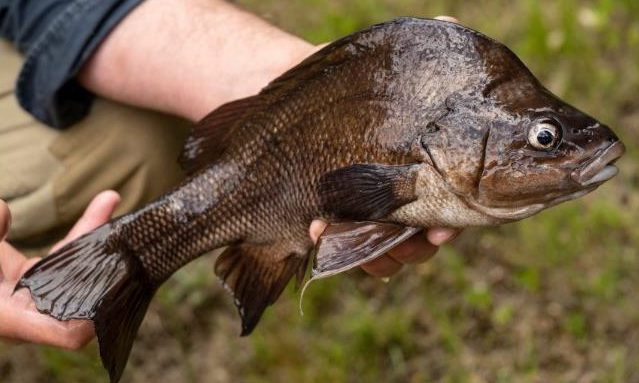 However, a number of barriers and challenges to the recovery of Maccas remain.
The VFA in conjunction with key partners getting serious about the recovery of Maccas and are embarking on a holistic and integrated approach.
Click here to read more about the 2021 Landcare Led Bushfire Recovery Grant for Macquarie perch.
Macquarie perch display at Melbourne Aquarium
The VFA have partnered with the SEA LIFE Melbourne Aquarium to create a Macquarie perch display that opened in August 2022, featuring adult Macquarie perch transported from the Snobs Creek hatchery, near Eildon.
The display will help raise awareness about this endangered native fish and the collaborative efforts underway to accelerate its recovery in the wild.
Fisheries Management Actions
Fish breeding, stocking and translocation
There are a range of complementary and integrated actions for supporting the recovery of Maccas. Captive breeding and stocking of Macquarie perch has been identified as the most critical action and short-term goal for their recovery.
A recent episode of the VFA's Poddy Mullet podcast discusses the work going into recovering Maccas. Click the link below, or find The Poddy Mullet via your podcast platform.

Breeding using wild broodstock has a long history and has been undertaken over a number of years with some success.
Watch a historical video from the 1950s on Macquarie perch spawning and breeding using broodstock from the Jamieson River here:
Stocking and translocations has proven successful in re-establishing Maccas in a number of locations, such as the Ovens River.
Watch a video on the collaborative Ovens project here:
However, with our reliance on using wild broodstock for breeding limited, captive breeding is the ultimate goal if we are to give Maccas the best chance of surviving and thriving in the wild.
Stocking can also assist existing populations becoming more resilient. Fragmented Macquarie perch populations means that genetic diversity can be reduced. Most remaining populations of Macquarie perch have a low genetic diversity, and their relatively small population sizes are below what is required to keep adaptive potential (Pavlova et al 2017). Regular small-scale translocations between populations, smart stocking and increasing connectivity between populations has been recommended to improve gene flow.
Habitat and river health restoration
Macquarie perch are challenged on many fronts. The construction of dams, weirs and road crossing creates barriers to fish movement to gain access to breeding areas, better habitat or to other perch populations. Regulated rivers have dams that can discharge cold water which may disrupt temperature cues for spawning. The clearing of streamside vegetation and in the catchment in general, increases erosion and siltation, resulting in the loss of deep pool habitat and smothering cobble bed spawning habitat and eggs. Other stressors including pollution from domestic, agricultural and industrial sources, introduced disease, overharvest from fishing, and competition with introduced species compound the pressures and lessen the population's ability to cope with extreme events such as bushfire, drought or floods occur.
Stream restoration is a powerful conservation action to promote resilience to such events. Both riparian and catchment revegetation helps stabilise banks, increases food, limits erosion and helps to restore the instream habitat required by the perch. In stream actions, such as resnagging and erosion control structures, add habitat complexity to the system which increases available habitat, as well as providing more space for populations to grow. These actions can also assist in stream physical attributes-- such as buffering water temperature, increasing microhabitat structure and therefore increase availability of macroinvertebrates and increase food production.
Managing environmental water, where available, can restore seasonal flow patterns and assist in spawning and recruitment.
Population monitoring and modelling
Population models can give insights into how populations can react to certain scenarios and which conservation efforts could be most useful. A model for Macquarie Perch was developed to explore scenarios for translocation and provide insights into the timeframes and what age and numbers are required for successful establishment of new populations. This model suggested combinations of young and older fish decreases the number of yearlings required and increases the chance of success under more stressful scenarios. Stocking is a viable addition in this multi-pronged approach (Todd and Lintermans 2015).
Models can also give indication of the effectiveness of angling regulations. Angling for Macquarie perch is currently permitted in Lake Dartmouth but as a threatened fish, over harvest could be disastrous to the population. Under current regulations, models indicated that overfishing was not a threat to the Lake Dartmouth Macquarie perch population and therefore recreational fishing can be maintained in the reservoir (Hunt et al 2011).
Threats to Macquarie perch
Maccas are a nationally endangered species. Once widespread throughout the south-eastern Murray-Darling system, fragmented populations are now only found in a number of isolated waterways (see a map of historical versus current distribution here).

Key threats to the survival of the species include:
Loss of connectivity and barriers to fish passage as a result of water regulation (construction of dams, weirs)
Changes in natural flows and cold-water impacts
Loss of habitat, riparian vegetation and impacts on river health
Climate change and extreme weather events (such as drought and bushfires)
Watch more about the plight of Macquarie perch and what's being done to rehabilitate river health below.
Further resources
Hunt, T.L., Douglas, J.W., Allen, M.S., Gwinn, D.C., Tonkin, Z., Lyon, J. and Pickworth, A. (2011) Evaluation of population decline and fishing sustainability of the endangered Australian freshwater fish Macquaria australasica. Fisheries Management and Ecology 18(6): 513-520
Pavlova ,A., Beheregaray, L.B., Coleman, R., Gilligan, D., Harrisson, K.A., Ingram, B.A., Kearns, J., Lamb, A.M., Lintermans, M., Lyon, J., Nguyen, T.T.T., Sasaki, M., Tonkin. Z., Yen, J.D.L. and Sunnucks, P. (2017) Severe consequences of habitat fragmentation on genetic diversity of an endangered Australian freshwater fish: a call for assisted gene flow. Evolutionary Applications 10(6): 531-550
Todd, C.R. and Lintermans, M. (2015) Who do you move? A stochastic population model to guide translocation strategies for an endangered freshwater fish in south-eastern Australia. Ecological Modelling 311: 63-72
Click here to read more about the 2021 Landcare Led Bushfire Recovery Grant for Macquarie perch.
For further information, please contact:
Taylor Hunt, Acting Manager Freshwater Fisheries:
0418 478 028
Michelle Wenner, Senior Fisheries Manager:
Michelle.Wenner@vfa.vic.gov.au
0497 999 744