How to catch trout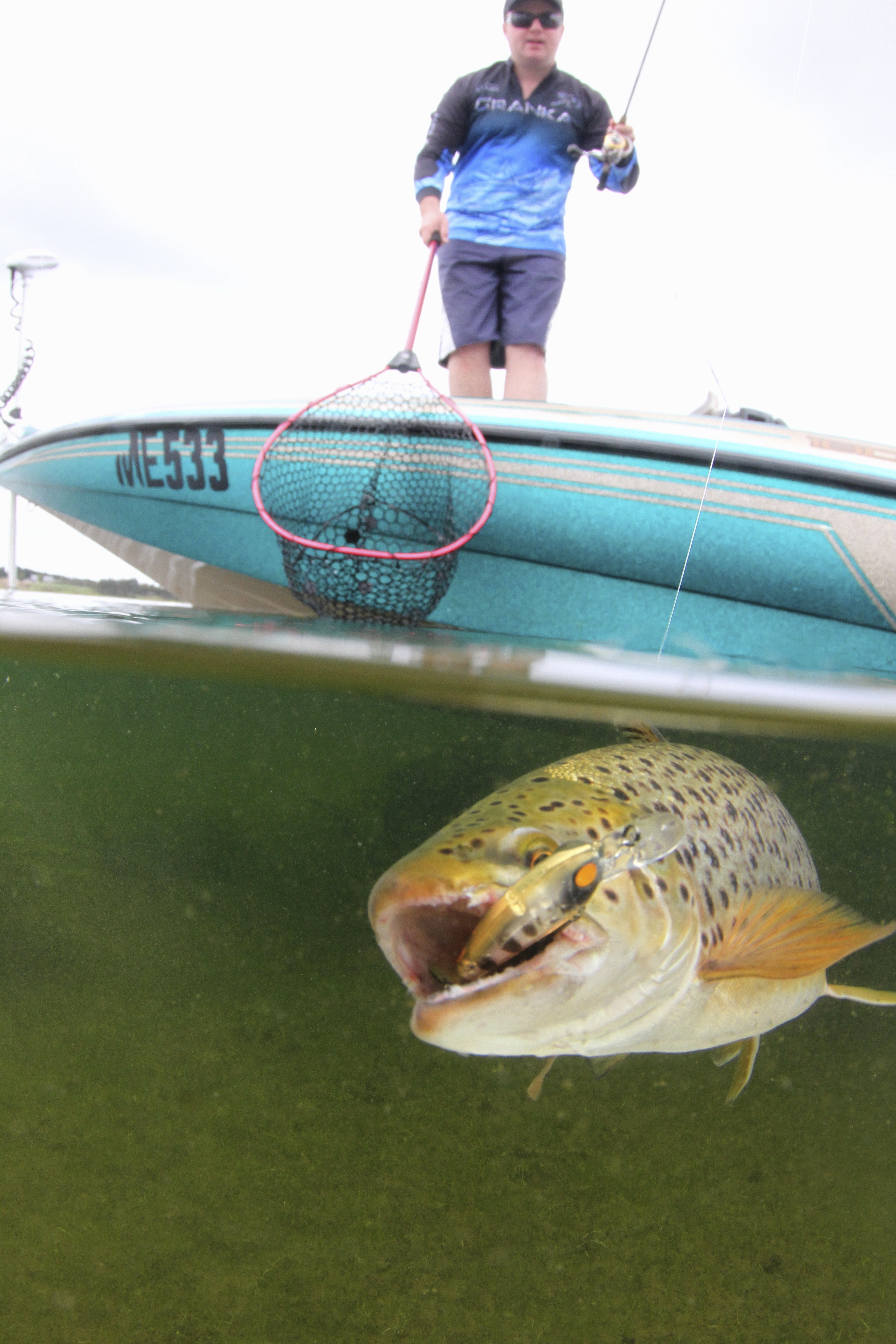 Lake fishing
Trout can be caught in several ways depending on your preferred method and level of enthusiasm. Boat fishers commonly troll lures on the surface, which is called flatlining. Others troll lures and bait deeper with specialised devices and weighted lines designed to get the lure well down. Shore-based fishers can walk the shoreline with a spin rod casting lures or cover water with a fly rod. If staying put is your thing, then bait fishing can be a family friendly way to catch trout too.
Trolling
The beauty of trolling large bodies of water is you can find where the fish are holding on any given day. It's not uncommon to find trout in the middle of a lake near the surface, scouting for small baitfish. Trollers usually go as slow as their boats allow and have a couple of lines out behind the boat, set at varying depths. Lures to consider include the Tasmanian Devil range of winged lures and bibbed minnows that resemble baitfish. Worms and mudeyes can be trolled too, usually behind an attractor such as a Ford Fender, dodger or a set of cowbells. Trollers can also use specialist methods to vary the depth of their lures. Downriggers, paravanes, trolling sinkers and lead core lines are all ways to get lures deeper. A 6-7ft medium actioned rod with a 2500 sized reel, 3kg braided line and 4kg monofilament or fluorocarbon leader of about 6 foot are perfect.
Bait fishing
Bait fishing for tro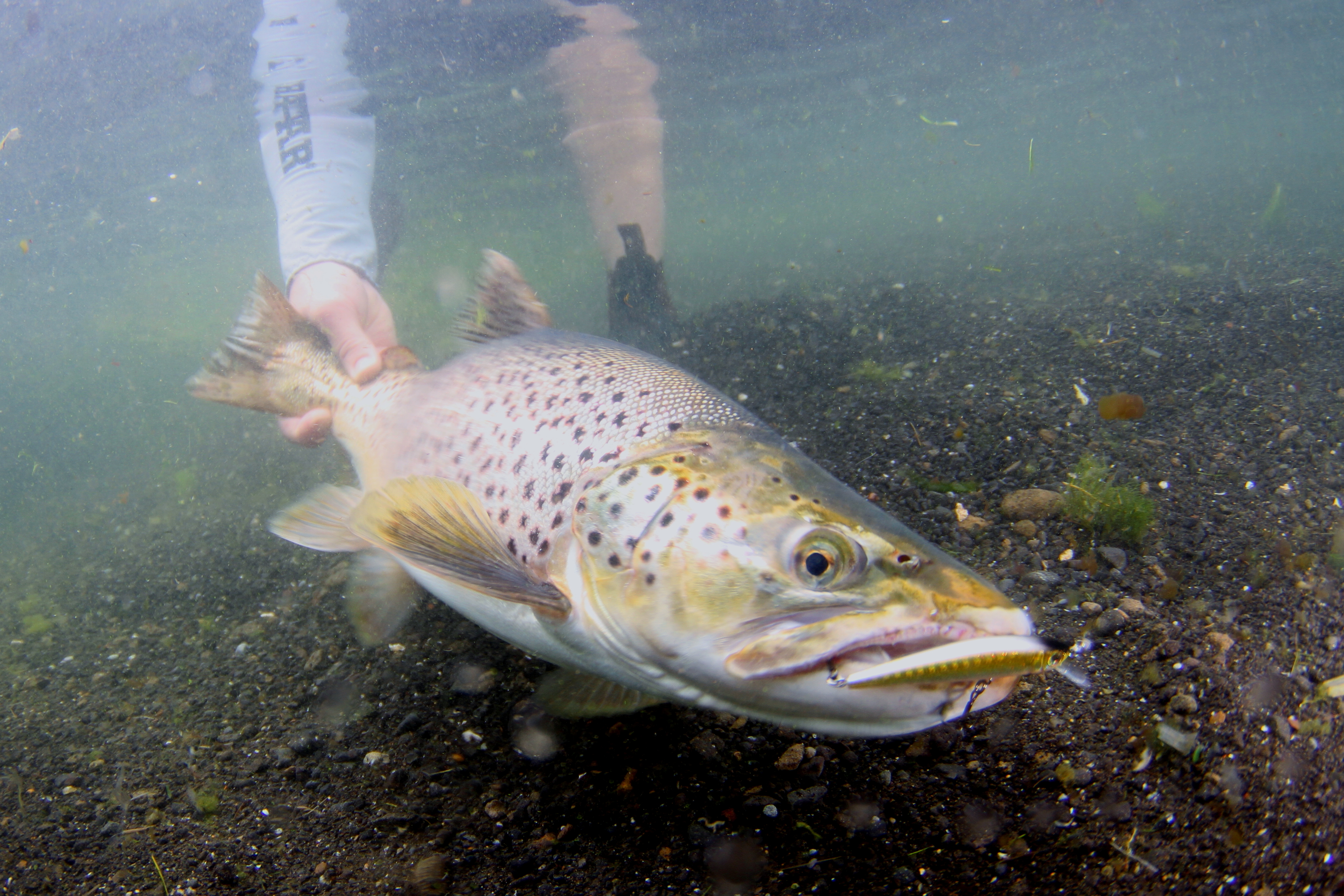 ut from a boat is popular in the south west and Grampians and two distinct styles are used. The normal approach is to fish the margins of a lake with a bait under a bubble float, especially around structure or weed beds. Mudeye or a live bait like a locally trapped gudgeon are very effective. The less traditional approach in deep water is to anchor or spot lock with an electric motor and throw a steady supply of berley to attract fish. Baits of pilchard fillet or blue bait are then presented at depth on very lightly weighted rigs. This is a deadly approach for Chinook salmon in lakes Purrumbete and Bullen Merri and works on rainbow trout too.
Shore-based fishers
Night-time fishing for big brown trout is very effective at Lake Bullen Merri and is best done from the shore, for convenience and for safety. Local live gudgeon presented under a float are fished on open spools, sometimes with bite detector alarms. Brown trout over 4kg are caught this way as they hunt the margins for a high protein meal.
Another popular method from the shore is bait fishing with Powerbait. This works especially well for rainbow trout in the Crater Lakes and at Lake Bolac. A simple running sinker rig is sufficient. A short leader of 30cm is finished with a small hook, which is light in weight. A single pellet of Powerbait, or maybe two, is threaded onto the hook and floats off the bottom, right in front of rainbow trout swimming by. This method is family friendly and convenient because jars of Powerbait are pretty cheap and last well beyond just one trip. Try a few different colours because some days the rainbows take pink and other days yellow or rainbow. Just like lure fishing!
Casting lures in a third option for shore-based fishers. Light and thin lines, especially braid, enable long casts and a mixture of sinking and floating lures will cover the bases depending on the lake. Dawn and dusk are the best times to chase trout from the shore with lures because they're often in close under the cover of dark foraging for baitfish and insects. After rain, worms and terrestrial creatures wash in too, and despite slightly coloured water, lures can still be a good option.
Fly fishers will fare well using wet flies but won't be able to cover nearly as much water as those casting lures with spin gear. Longer rods will cast further to cover more water, so a 7-7.5ft medium action rod with 2500 size reel, 3kg braided line and three or 4kg leader of about 6ft will do the job nicely. For fly fishers, a forward weighted line for longer casts is essential and focus on low light periods along lake edges.
Click here for catch limits on brown trout
Click here for catch limits on rainbow trout