The south west and Grampians are home to a plethora of lakes that provide outstanding opportunities to target a range of freshwater fish. No matter your skill level, there's something for everyone!
Brown trout and rainbow trout
Trout love cool water and the south west provides plenty in several of its deep lakes. Rainbow and brown trout dominate the mix with exciting species like tiger trout and brook trout also stocked into some waters.
Fisheries stocked most trout in this region which thrive in waters teeming with high protein prey such as smelt and gudgeon. Elsewhere in Victoria, a good trout might be 1.5kg however in this part of the state that's only an average trout with trophy specimens up to 4kg a possibility.
Click here to learn how to catch trout
Chinook salmon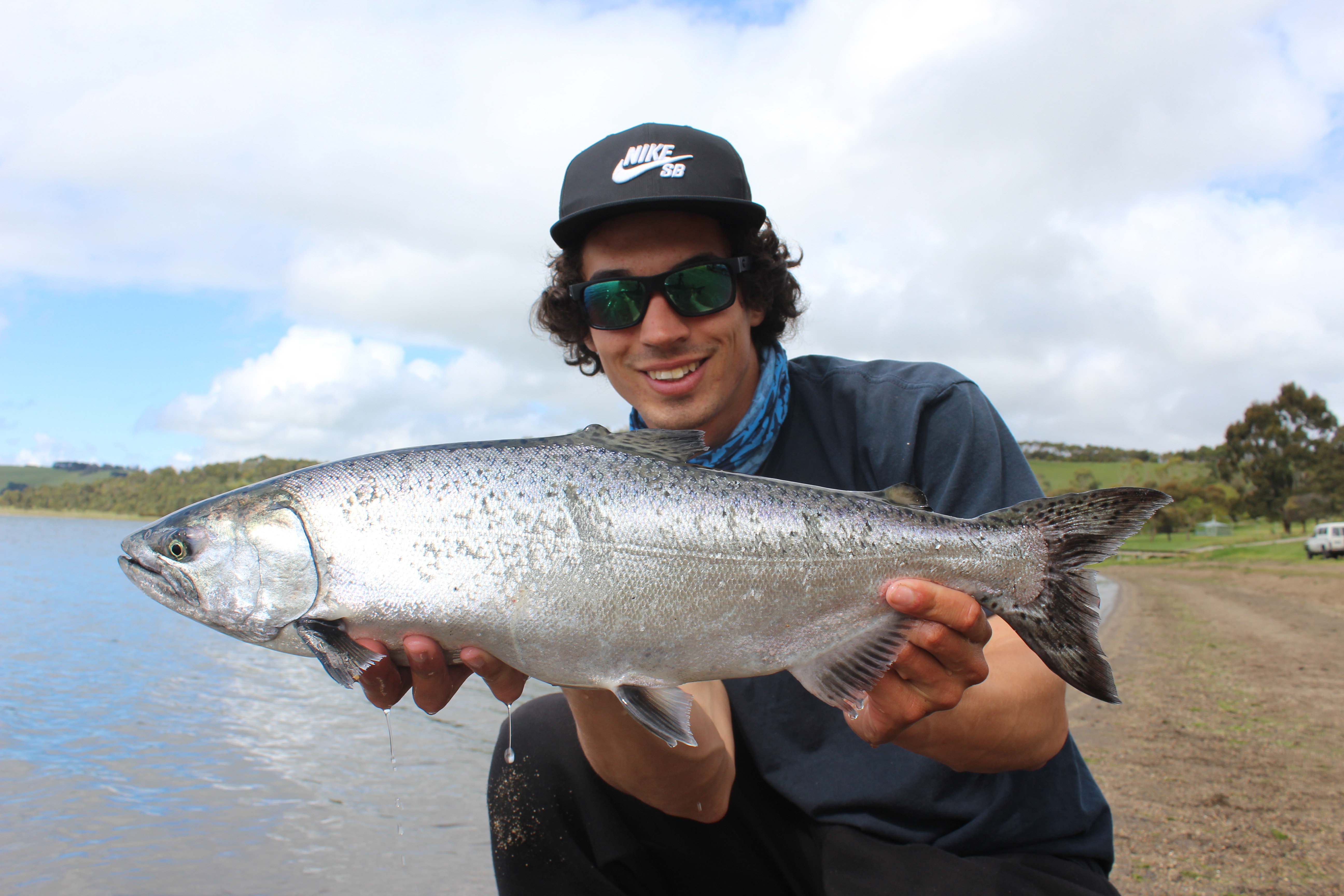 Over many years Fisheries has stocked several waterways with fast growing Chinook salmon. These fish are aggressive feeders and can grow large, reaching 3kg or more. Lake Bullen Merri and Purrumbete are the two best lakes in all of Victoria to target Chinooks and there are few, if any, other states where the species can be caught by recreational fishers.
Click here to learn how to catch Chinook salmon
Murray cod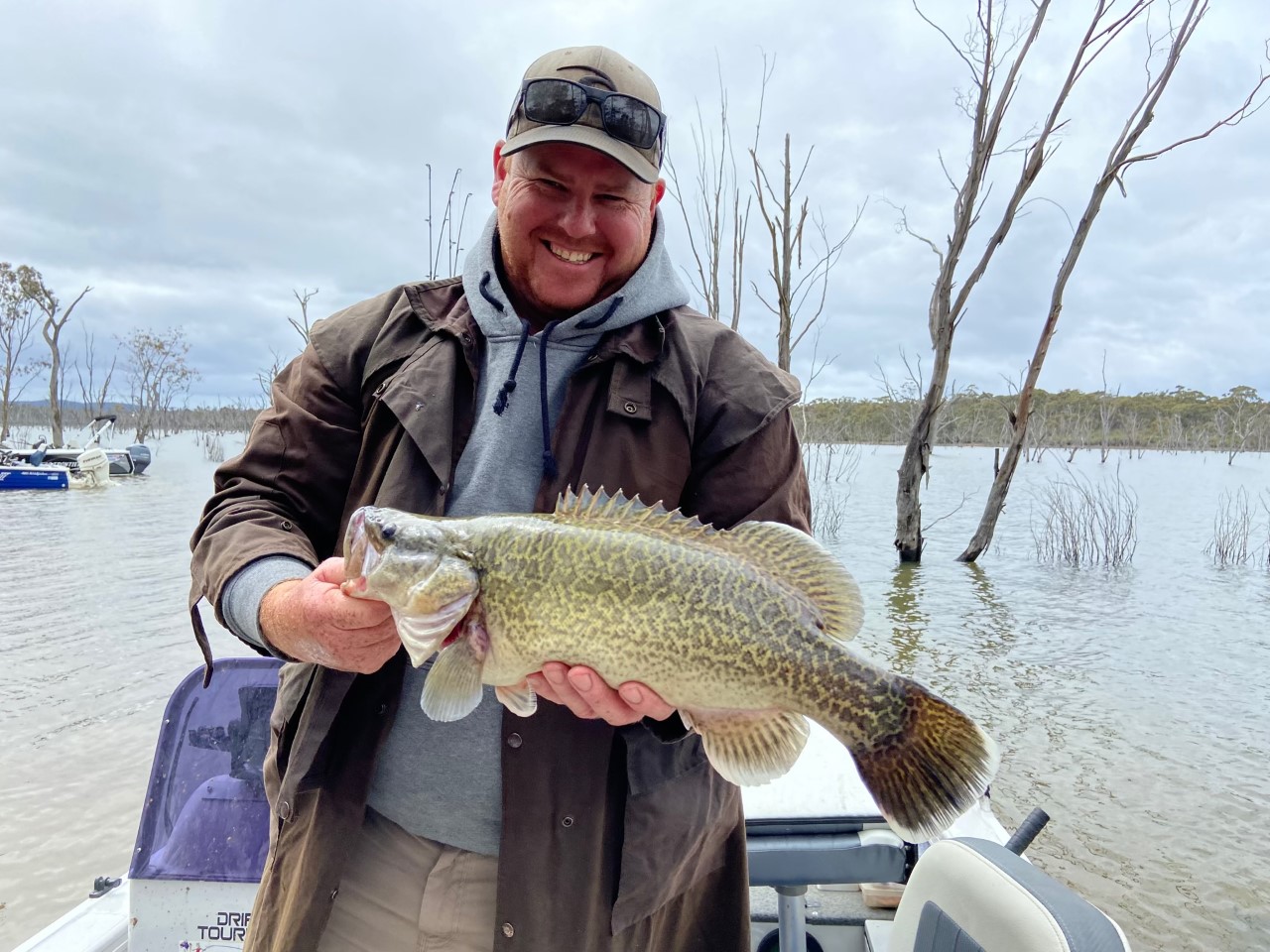 The impression that Murray cod only inhabit deep, slow flowing rivers is incorrect! Cod thrive in a variety of environments and can be found in the very same water as trout. The emerging fishery at Rocklands Reservoir has all the ingredients for a wonderful cod fishery. When conditions are favourable, they grow quickly to the minimum size of 55cm. Murray cod are now being caught in the legal slot limit of 55-75cm at Rocklands and many keen fishers are anticipating regular 'metre' cod within the next decade.
Click here to learn how to catch Murray cod
Golden perch
Golden perch or 'yellas' thrive in a variety of locations ranging from warm and shallow rivers to deep and clear lakes. As stockings in the Grampians are relatively recent, most fish are around 1.5kg or less. With more stocking planned, fishers can look forward to terrific golden perch fishing with 10lb-plus yellas on the cards.
Click here to learn how to catch Golden perch
Redfin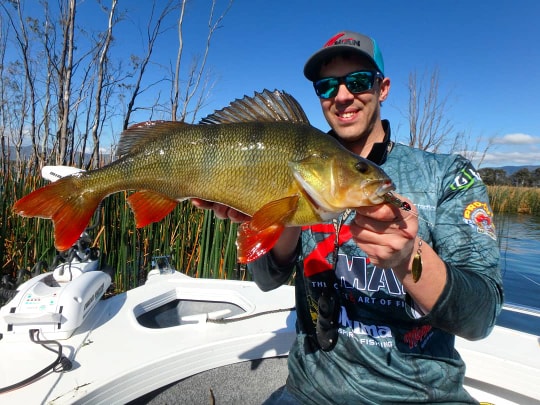 Redfin, or 'reddies' as they are fondly known, are prolific in southern Australia and have been a mainstay in the south west and Grampians lakes for decades. They can be caught year-round with warmer weather seeing big ravenous schools on the move. They're often found around submerged trees or schooled up in deep lakes out in open water, feeding on aggregations of baitfish like smelt. Redfin are a popular catch because they're delicious to eat, relatively easy to catch on basic gear, take lures and bait willingly, and can be caught in numbers (no bag limit applies).