How to catch Chinook salmon
Chinook salmon only exist in a small number of lakes in the south west and are totally reliant on stocking by Fisheries. They can be caught multiple ways depending on your experience and enthusiasm. Boat fishers commonly troll a variety of lures near the surface (flatlining). They also present lures deeper with paravanes, downriggers and trolling sinkers. Other boat fishers anchor and use bait combined with berley. Conversely, shore-based fishers can walk the bank with a spin rod casting lures to 'cover ground' or select a spot and set up for a session of family friendly bait fishing, which is the easiest and lowest fuss approach.
Boat-based fishers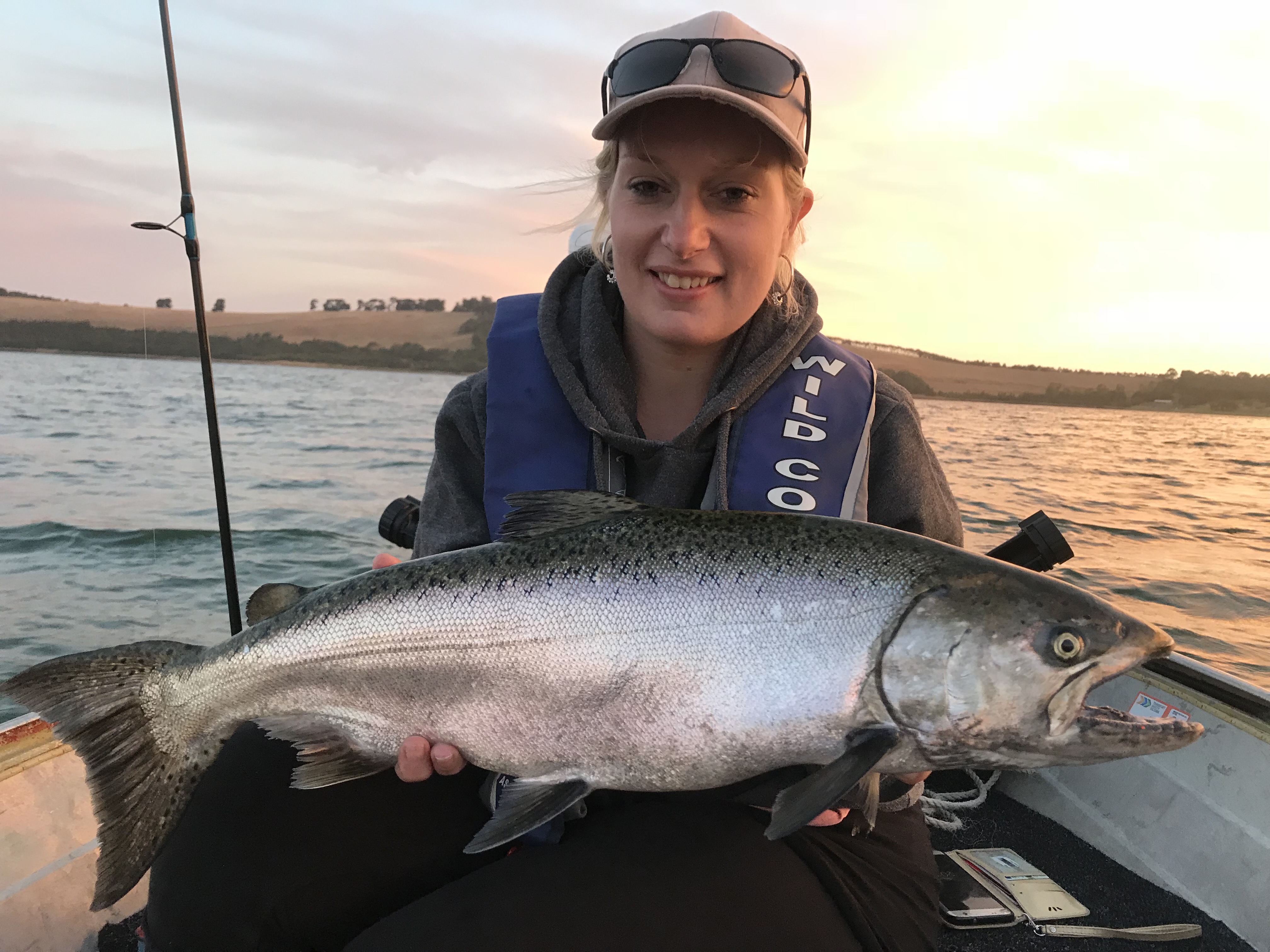 A boat is a distinct advantage allowing fishers to move about the lakes freely. Sometimes if the salmon are sitting in deep water, a boat may be the only way to effectively target them. Two primary methods are employed, trolling and bait fishing.
Trolling
The attraction of trolling large bodies of water like lakes Purrumbete and Bullen Merri is that you can actively find where fish are holding. It's a relatively simple way to fish for them and is usually very effective. Chinook salmon can be taken in quite open water too. In low light it's not uncommon to catch them near the surface scouting for small bait fish. More often though, fishers probe deeper, concentrating on the thermocline, especially during the warmer months when both lakes stratify. Trollers usually go as slow as their boat allows and have a couple of lines out well behind the boat covering different depths. Some tried and tested lures are the Tasmanian Devil range and medium sized diving crankbaits. Even bait can be used to troll with including pilchard, glassies, gudgeon or blue bait, sometimes behind a flasher device or cowbell attractor. Trollers utilise specialist methods to vary the depth their lures run by using downriggers, paravanes, sinkers or leadcore lines. A 6-7-foot medium actioned rod with a 2500 sized reel, 3kg braided line and 4kg leader of about 6 foot is perfect.
Bait fishing
Bait fishing for Chinooks is done differently and it works well! Baits you would normally use in salt water such as of pilchard, glassies or blue bait are fished vertically from a boat over schools of fish found using a sounder. At the same time, berley is thrown to keep the fish around, with tuna oil or frozen berley logs popular. With larger baits, size #3 hooks and even up to 1/0 are used and kept lightly weighted for the best presentation.
Shore-based fishers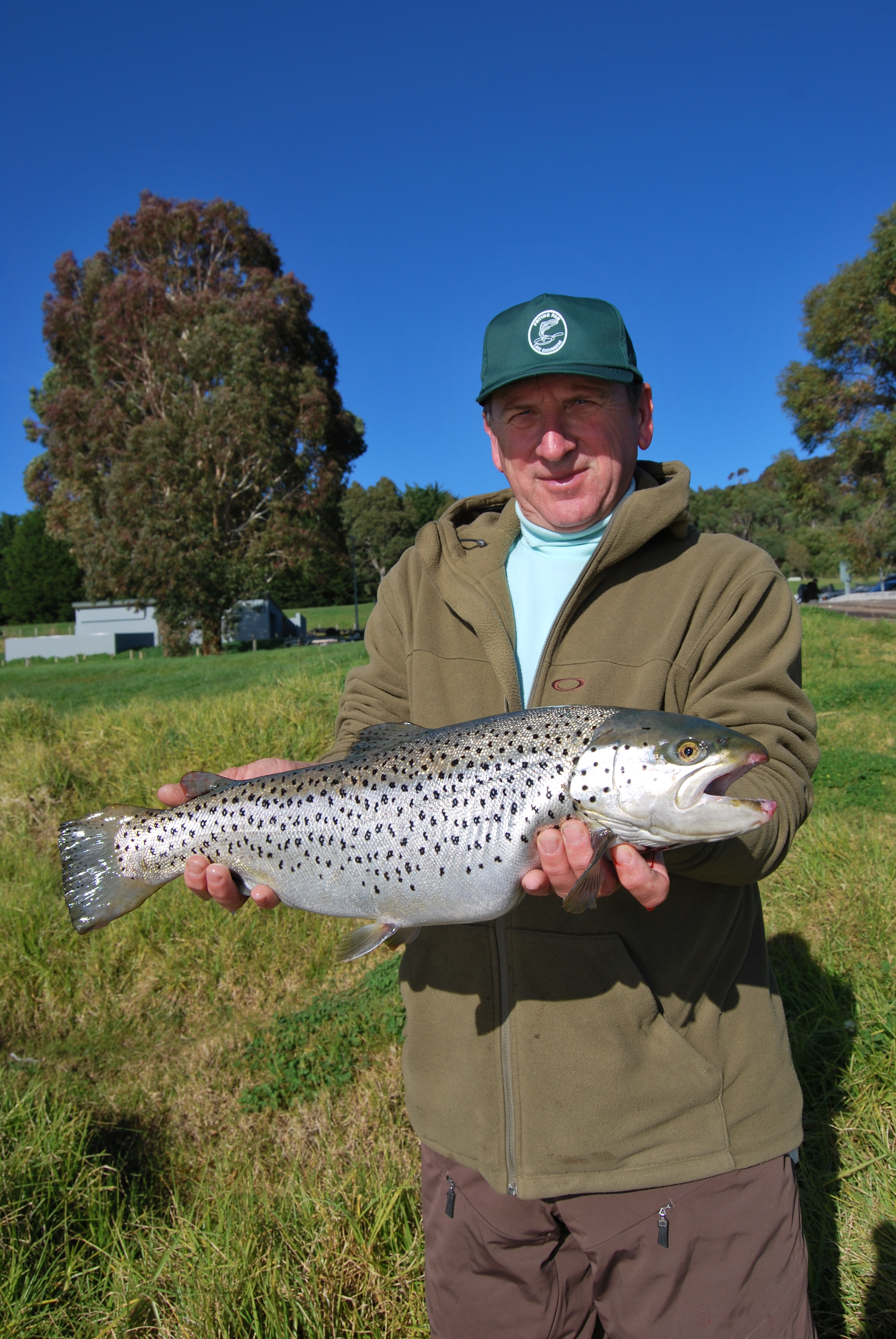 Energetic fishers enjoy making their way around lakes on foot with a fly or spin rod, employing a cast and move strategy. A series of fanned out casts are done, then the fisher moves left or right 10-20m and repeats the process. A good stretch of shore can be covered to intersect an active fish. When using this technique, the same lures used to troll will work well. Longer rods will help cast further to cover more water, so a 7-7.5 foot medium actioned rod with a 2500 sized reel, 3kg braided line and 3 or 4kg leader of about 6 foot will do the job. Focus on low light periods for the best chance at a Chinook around the lakes' edges.
Bait fishers do well using natural and artificial baits. Mudeyes, glassies, earth worms, blue bait, pilchard, local gudgeon, minnows, and Powerbait work well. It pays to match hook sizes carefully with bait sizes. Minimise anchoring the bait to the bottom too hard. Use the lightest sinkers possible or use a float to keep baits from getting lost in the bottom clutter and weed. The same tackle for shore casting works. Just add in a rod holder so you can anchor things down to prevent a rod loss when a trophy fish takes off.