Dusky flathead
How to catch flathead
In estuaries and offshore waters of East Gippsland, flathead are a much-loved catch. Large dusky flathead found in lakes and rivers are considered one of the region's prized fish, with catches of up to a metre long every year. Fortunately, with the implementation of a slot limit, these trophy fish are returned to the system to breed and be caught again another day.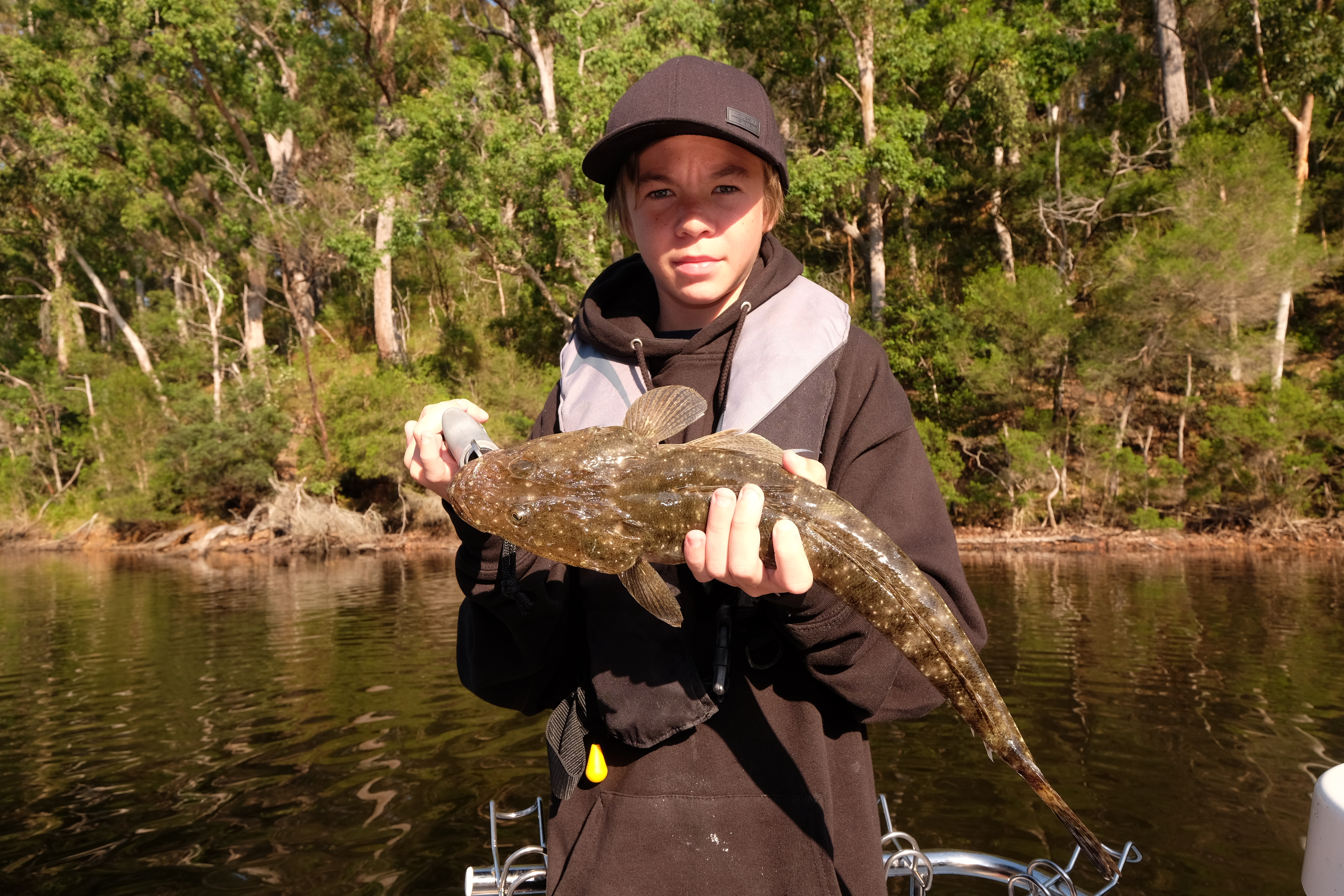 During warmer months, big lake flathead become more active, moving into shallow water and lying-in ambush off points, weed beds and drop-offs. These areas are ideal spots for baitfish like mullet and prawns to come within range, making lure casting for large flathead a popular and successful technique. Offshore, sand and large tiger flathead are popular targets for many anglers too, and can be easily reached once you're out to the 30-to-50-metre line. The best time of year for offshore flathead fishing is from spring through to autumn, when ocean currents are warmer.
Although comfortable lying in the sand, partly covered, flathead like being close to structure so reef edges and sand patches in amongst weed beds are target areas. When it comes to bait fishing for flathead, the main technique is drift fishing with baits. Once fish are located, repeat the drift, noting it is vital to keep baits on the bottom, which becomes more difficult when there's a breeze blowing the boat too quickly. In this case, use a heavier sinker and let more line out to ensure the bait stays in contact with the bottom. If the drift is still too fast, invest in a sea anchor or drogue, as this will slow down the drift speed considerably and make fishing the bottom easier. Baits of squid or cut pilchards are perfect and soft plastics do well when actively fished.
Boat-based tackle
Various lures are suitable for flathead fishing, from large swimbaits measuring 7-8 inches to soft plastics and 8-9cm bream lures. Lure casters will benefit from using a 7-foot 3-5 kilo graphite rod paired with a 2500 sized reel loaded with 12-pound braid and a 20-pound monofilament leader.
Bait fishers can use the same rod and drift or anchor around the similar areas, but should concentrate on the edge of the drop-off into deeper water, as the super shallows are favoured for casting lures. A running sinker rig with a sized #1 to 1/0 hook baited with pilchards, squid, whitebait, pipis, blue bait, and prawns is perfect. The very best bait? A live mullet trapped in the estuary you're fishing.
The same gear used for offshore gummy shark fishing can be used for flathead, including a 7-foot rod rated at 10-15kg, paired with a 5000 or larger spin reel or equivalent overhead. The main line should be 30-50lb braid, and a paternoster rig should be tied with 40-60-pound monofilament and 4/0 circle hooks. To complete the rig, choose a bomb sinker of appropriate size for the drift speed and depth. It's always a good idea to have larger sinker sizes available to ensure contact with the bottom.
Click here for bag limits on flathead (all species except dusky flathead).