Restricted Areas - Marine National Parks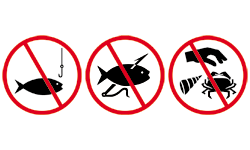 Marine National Parks and Marine Sanctuaries protect representative samples of Victoria's unique and diverse marine environments for the benefit of present and future generations.
All forms of commercial and recreational fishing from sea or shore are prohibited, including collecting bait, line fishing, setting traps, netting and the use of spears. Heavy penalties apply.
Boundary Markers
| | |
| --- | --- |
| | Shoreline Boundary Marker – points in towards park. |
| | Inwater Special Mark – at sea boundary and protected waters only. |
Parknotes which contain detailed maps of boundaries are available from Parks Victoria or by calling 13 1963.
The free Victorian Recreational Fishing Guide App has a "Can I fish here?" function which uses a smart phone's internal GPS to allow the user to determine whether they are approaching or within an area where fishing is prohibited such as a marine park or sanctuary.