Mallee - Angling Waters
View Mallee Basin in a larger map (opens new window).
The above map is provided by Google. The department accepts no responsibility for its accuracy or content.
Cardross Lake, Cullulleraine
360 ha.
Located west of Red Cliffs and is one of a chain of three shallow, weedy lakes in flat sandy country. Filled by excess irrigation water from surrounding fruit growing blocks.
Most easily reached via Benetook Ave (off the Calder Highway almost into Mildura). Drive through Koorlong and turn off at the Mildura Pistol Club sign. A thick growth of spike rushes makes it difficult to fish from the banks and a boat is needed for best results. Carries abundant bony bream to 700 g, redfin to 2 kg, abundant European carp to 5 kg and a very good population of freshwater catfish. It is also the site of the only known occurrence of the southern purplespotted gudgeon in Victoria. Popular angling water for redfin. Freshwater catfish are protected and must be returned to the water alive. This water is not scheduled for stocking.
Cullulleraine Lake, Cullulleraine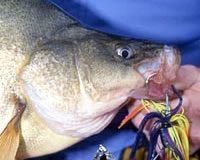 40 ha. 2,460 ML. Caravan park, kiosk, picnic area, barbecues and boat ramp.
A man-made lake surrounded by red sand hills, sand bottom. It is maintained by pumping water from Lock 9 on the Murray River and supplies stock and domestic water to the Millewa district, west of Mildura. Bank fishing is possible but boat fishing gives better results.
Contains abundant bony bream to 600 g, golden perch to 3.3 kg, a few Murray cod to 10 kg with larger fish possibly present, abundant European carp to 10 kg, redfin to 1 kg with occasional larger fish and tench. Silver perch used to occur and the lake was reported to carry freshwater catfish to 2 kg but these two species were not taken in a DSE survey in the late 1990s. Best fishing time for redfin is in the evening on a hot day and for the other species just after pumping operations.
Best baits are yabbies, shrimps, mussels and grubs, while various lures are excellent if the water is clear. Excellent fishing results for bony bream and golden perch. Stocked regularly with Murray cod and golden perch.
Hattah Lakes, Hattah
1,120 ha. Ramsar listed.
A chain of twelve lakes located on the Chalka Creek system within the Hattah-Kulkyne National Park. Surrounded by red gums, scrub, and red and white sand hills. Filled by overflow from the Murray River via Chalka Creek. Access is through the Hattah Lakes National Park. Care should be taken because of soft sand in some areas and slippery conditions after rain. There are camping grounds (fees apply) at Lake Hattah and Lake Mournpall and bush camping is permitted along the Murray River. Check with Park Rangers before camping. The lakes are weedy with mud bottoms. Some dry out regularly in summer and all approach this condition in dry spells. Although the bird watching in this area is superb, the fishing is patchy with very good fish taken only at times. European carp are the most common fish with a few golden perch, silver perch, freshwater catfish, bony bream and redfin. Best baits are shrimps, yabbies and worms. A boat is needed for best results. Not stocked.
The lakes received extra environmental water to flood river red gums (2003-05), as part of the River Health Program.
Hawthorn Lake, Mildura
195 ha. 4,150 ML. Boat ramp on the southern shore and a caravan park.
A saline muddy lake on the edge of Mildura (8,000 EC in 1998). The lake is used primarily for speedboat racing. Although productivity and habitat values are declining, it did contain abundant European carp to 5 kg, bony bream to 700 g, flathead gudgeon and possibly some golden perch and redfin.
Best baits are shrimps, worms and pieces of yabby. A boat is needed for best results. Was stocked with golden perch in the early 1990s but this did not produce adequate returns to the angler. Dry in 2008/09 and not stocked.
Kings Billabong, Mildura
40 ha.
A storage for irrigation water, maintained by pumping from the Murray River. Surrounded by state forest and orchards, mud bottom. Carries mainly redfin to 1.3 kg, European carp, golden perch, silver perch, bony bream, goldfish and Australian smelt. A popular fishing area with good catches of redfin at times.
Best baits for redfin are shrimps, and yabbies. Spinners and lures are also successful. Best fishing times are usually late evening and early morning. Boats, which can be launched from the beach, are an advantage but not essential. Not stocked.
Lindsay River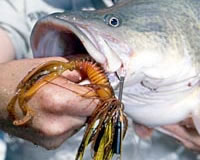 A 32 km anabranch of the Murray River flowing through river red gums, black box woodlands with dense lignum on the clay flats and some grazing land. It has one tributary (Mullaroo Creek) which provides some flow. Lindsay River upstream of this tributary is only a few metres wide in its upper reaches, with pools to 4 m deep separated by shallow runs. The river is wider downstream (up to 100 m) as it flows to the Murray River, with numerous pools to 5 m deep and a maximum water depth of 8.6 m.
Flow is very sluggish and there is a mud substrate. Water is usually discoloured and surface aquatic vegetation appears in January. The bottom of the pools can become anaerobic (reduced oxygen) during summer when water temperatures exceed 22o C but the water remains fresh (400-500 EC). Much of the Lindsay River lies within the Murray-Sunset National Park. All the tracks are dry weather only. There are no designated camping grounds but tracks lead to shady camp sites along the creeks. Beware of the possibility of falling red gum branches when selecting a camping site.
A very scenic area, with much natural terrain and forest. There are some areas of private unfenced property between the road and the river but anglers can cross to the river. Fish present are European carp, Murray cod with occasional fish to 45 kg, silver perch, redfin, bony bream, abundant golden perch, freshwater catfish, Murray River rainbowfish, unspecked hardyhead, Australian smelt and goldfish.
Surveys by DSE (1994-97) found that bony bream and golden perch were most abundant making up 76% of the total number of all fish caught during surveys. Murray cod appeared to be scarce with only 1-4 fish caught each sampling trip. Freshwater catfish, silver perch and redfin were very scarce. However there appears to have been a significant increase in the numbers of Murray cod since then. There is now a good Murray cod fishery supported by movement of fish from the Murray River and natural spawning.
Baits recommended for Murray cod and golden perch are yabbies, shrimps, mussels and bardi grubs. In clear water, spinners and lures can be used. The river provides good fishing particularly when the river is flowing clear after a flush of water. A boat can be used but the river is accessible for bank fishing. There is no stocking of fish.
Extra environmental flows were provided during 2003-05 to flood river red gums on the adjacent Lindsay Island, as part of the River Health Program.
Murray River (NSW)
See Murray River
Walla Walla Lake
243 ha. 4,430 ML.
Located 85 km west of Mildura and connected to the Lindsay River. Contains redfin to 2 kg, abundant European carp to 6 kg, some golden perch, the occasional Murray cod and freshwater catfish. Not stocked.
Wallpolla Creek, Wentworth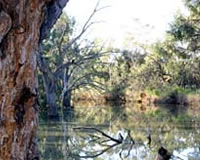 This is a major anabranch system of the Murray River, consisting of hundreds of small waterways, some of which are very snaggy. Flows through a forest of river red gum, blackbox woodlands, saltbush plains and lignum surrounded by grasslands. Access along the tracks can be difficult during wet weather, check with the Mildura office.
Open to boating with best access for small boats near Loch 9, which can be reached via a turn off west of Cullulleraine. Care should be taken when boating as it is easy to get lost. Take a detailed map and adequate fuel.
Contains European carp, abundant golden perch and bony bream, redfin, silver perch, Murray cod, unspecked hardyhead, Murray River rainbowfish, and goldfish.
Surveys by DSE (1994-98) found that golden perch and bony bream were the most abundant species, making up 33% and 38% respectively, of the total numbers of fish caught. European carp and goldfish were common but Murray cod numbers were low. DSE also concluded that almost all the Murray cod caught during the survey were from successful natural spawning in 1993 and possibly 1995 when flooding occurred. Redfin were rare in 2002. Around 40,000 Murray cod have been stocked on several occasions from 1982-1997. A popular water with anglers and provides good fishing for golden perch. Anecdotal information shows the number of Murray cod in the Murray River has increased in recent years and it is likely that this has also occurred in Wallpolla Creek.
Extra environmental flows were provided during 2003-05 to flood river red gums on the adjacent Walpolla Island, as part of the River Health Program.