Eastern King Prawn Stocking in Lake Tyers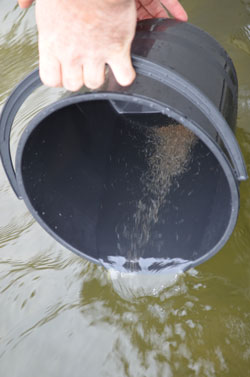 In 2013, 1.3 million Eastern King Prawns were stocked into Lake Tyers.
The prawn stocking is designed to improve recreational fishing opportunities in the lake and is the first time that prawns have ever been stocked into a Victorian water.
The project was funded entirely by recreational fishing licence fees.
The first batch of 300,000 prawn larvae were released in February with another million prawn larvae released in December.
Lake Tyers was identified as an ideal candidate for prawn stocking based on its environmental and physical attributes through consultation with researchers, anglers and other government agencies.
Prawn stocking in estuaries elsewhere along the south-eastern NSW coast successfully improved fishing opportunities. Fisheries Victoria believes similar results can be achieved at Lake Tyers.
Lake Tyers will be temporarily closed to commercial bait fishing to allow the stocked prawns to grow and be available to recreational fishers.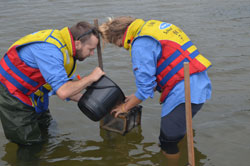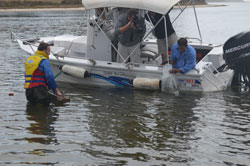 Monitoring
The release of these prawns is accompanied by a monitoring program to determine how the prawn larvae survive and contribute to the fishery.
The monitoring program will help us understand the environmental conditions favourable for stocking and clarify the contribution that the released prawns make to the overall population in Lake Tyers.
Researchers, with the help of recreational anglers, will differentiate the stocked prawns from wild ones that naturally occur in the lake through genetic profiling.
The future
Hopefully, anglers can look forward to great prawn fishing at Lake Tyers from Christmas 2013 when the first 300,000 prawn larvae will reach a table size of around 10 cm. The second batch should reach table size in time for Christmas the following year.
Fisheries Victoria will assess the success of this project to inform further marine stocking endeavours of this kind, which may include marine and estuarine fish species.