Wimmera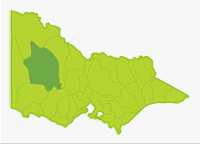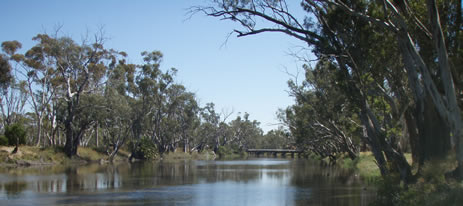 Wimmera River
This is a large Basin covering 10% of Victoria's surface area but contributing only 0.9% of the water in the State. There are hills in the south, formed by the Southern Pyrenees and the Grampian Ranges. The flat Wimmera Plains then extend north for 160 km. They consist of finely-textured unconsolidated deposits which become an extensive dune complex nearer the Murray River. There are scattered and patchy areas of forest in the southern hills but most of the Basin is grazing (sheep) and broad acre cropping (wheat, barley & oats). There is extensive mallee/saltbush and heathland scrub north of Lake Albucutya.
Most water originates in the southern Pyrenees and Grampian Ranges and flows north via the Wimmera and Richardson Rivers. However flow peters out in the north of the Wimmera Plains, through evaporation and deep seepage. Lakes Hindmarsh and Buloke occasionally receive water from the two rivers. Mean annual rainfall is 400-700 mm in the southern half of the Basin and 300-400 mm north of Dimboola.
The Basin has several large natural lakes and four man-made storages, located south of Horsham. These contain self-sustaining populations of redfin, and salmonids from regular stocking, and provide most of the fishing. Several species of native fish have also been introduced into lakes in the Basin.

Water from the Wimmera River and its tributaries has been regulated since the 1840s. Nine weirs have been constructed along the main channel of the Wimmera River of which six are still in place. These provide important fishing areas. The new Wimmera Mallee Pipeline (to be completed in 2010) will replace the existing open channel network which will result in a savings of 103,000 ML/year. Four main pipes, originating from the Grampian storages, will take water to towns and localities within an area of 60,000 square kilometres. This will provide increased environmental flows in four river systems but may reduce inflows into a number of lakes no longer required for operation of the new system.
Freshwater Fish in the Basin
Native species
(Large fish): golden perch, Murray cod, freshwater catfish, silver perch and Murray spiny crayfish.
(Small fish): mountain galaxias, southern pygmy perch, *western carp gudgeon, Australian smelt, southern pygmy perch, river blackfish, #common galaxias and flathead gudgeon.
Introduced species
Brown trout, rainbow trout, redfin, European carp, tench, goldfish, eastern gambusia.
Native species in bold are protected in this Basin. Introduced species in bold are declared noxious.
*includes hybrid species of the genus Hypseleotris previously identified as Midgley's carp gudgeon.
#common galaxias: feral populations have become established in several waters. They are thought to have been introduced into the Wimmera Basin by anglers using them as bait.
Management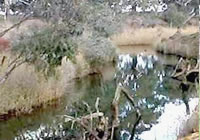 See Introduction for information on management agencies and programs.
Victorian Fisheries Authority
- manages stocking, fisheries policy, compliance with fisheries regulations and angler contact.
Fisheries Management Plan (FMP) (a recent project that provides recreational anglers, government agencies and other stakeholders with clear guidance on fisheries management issues with a regional area over a five year period).
A FMP has been declared which covers some waters within this Basin. Victorian Fisheries Authority Management Report Series. Wimmera Fishery Management Plan. No 68. November 2009.
Stocking Program (stocking plans for desirable species are based on an approved Victorian Fisheries Authority stocking policy and are reviewed annually via Vic Fish Stock). Native fish are stocked in Batyo Catyo Lake, Green Lake, Pine Lake, Richardson River (Rich Avon Weir), Taylor Lake, Wimmera River, Walker Lake, Landsborough Reservoir and Yarriambiack Creek. Many of these lakes have not been recently stocked because of drought conditions and will not receive fish until conditions are suitable. Brown trout and/or rainbow trout are stocked into Bellfield Lake, Cato Lake, Dock Lake, Dunmunkle Creek, Foletti Caravan Park Lake, Fyans Lake, Natimuk Lake, Nhill Lake, Police Paddock Dam, Rable Park Lake, Toolondo Reservoir, Wartook Reservoir and Watonga Drive Dam.
Up to date information on numbers and size of each species stocked can be found under Fish Stocking in the Fisheries and Aquaculture section of this website or in the annual Vic Fish Stock Report published by the department.
Family Fishing Lakes Program (an ongoing project of stocking small waters within urban areas with larger trout, for junior and disabled anglers. See Introduction for further information). Family Fishing Lakes are Cato Lake, Nhill Lake, Foletti Caravan Park Lake, Police Paddock Dam, Rabl Park Lake, and Watonga Drive Dam. See details of each lake in angling waters.
Victorian Stream Classification (a project that was completed in November 2010, which classifies each water as a native, salmonid or mixed fishery). Classifications relevant to this basin are:


Mixed - Lakes Bellfield, Fyans, Wartook and Toolondo, and other impoundments periodically stocked with trout by Victorian Fisheries Authority through Vic Fish Stock. McKenzie River upstream of Horsham Water Supply channel diversion weir (Dad & Dave's Weir), and Fyans Creek.
Native - all other waters.
Wimmera Catchment Management Authority
- is responsible for catchment management and the Victorian River Health Program.
Victorian River Health Program (an on-going state government initiative to achieve healthy rivers, streams and floodplains) River improvement work is continuing in the headwaters of the Wimmera River, in McKenzie Creek and the Richardson River.
Grampians Wimmera Mallee Water
- manages irrigation, domestic and stock water services, also development of Stream Flow Management Plans.
Stream Flow Management Plans (an ongoing project in which various agencies and water user's develop a flow sharing arrangement which ensures an adequate environmental flow allocation for each river in Victoria). None yet developed for waters in this Basin. However water for increased environmental flows has been committed, for a number of reaches in the Wimmera River.
Best Fishing Waters
| Water | Species |
| --- | --- |
| Wimmera River downstream of Horsham | Freshwater catfish, redfin, golden perch |
| Toolondo Reservoir when full | Salmonids, redfin |
| Fyans Lake | Redfin, salmonids |
| Bellfield Lake | Redfin |
| Wartook Lake | Brown trout |
Special Values
Heritage River Areas
The Wimmera River from Polkemmet Bridge to Wirrengren Plain has been listed as a Heritage River Area.
Ramsar Sites
(wetland of international significance, Convention on Wetlands. Ramsar. Iran. 1971) Lake Albacutya has been listed as a Ramsar Site.
Threatened Fish Species
Four species in this Basin (Murray cod, silver perch, freshwater catfish and Murray spiny crayfish) are threatened species in Victoria. The list of Victorian threatened species, with their national conservation value, scientific names and explanation of their conservation status category, is available on the DSE web site (Department of Sustainability and Environment [DSE] Dec 2007).
Species in bold type and the Lowland Riverine Fish Community of the Southern Murray Darling Basin are also listed under the Flora and Fauna Guarantee Act 1988.) and cannot be taken or kept without an order, licence or permit. Such an order by the Governor in Council allows anglers to take Murray cod, freshwater catfish, silver perch and Murray spiny crayfish from any water in this Basin.