Murray cod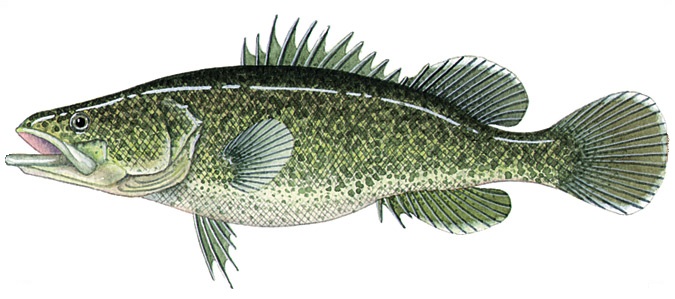 Common name/s

Murray cod

Scientific name

Maccullochella peelii

Legal size

Minimum: 55cm
Maximum: 75cm

Bag limit

Rivers: 1

In specified lakes and impoundments (see below): 2

Urban lakes: 2 (see a full list of urban lakes here)

Possession limit
There is a statewide possession limit for Murray cod of 5 fish or less than 30kg in any other form. This is the maximum number/amount of a particular type of fish that a person can possess at any one time anywhere in Victoria (including your home)

Additional information

These fish can't be filleted in or on Victorian waters. They must be kept whole or in carcass form until you're away from the water. It's okay to fillet your fish on the cleaning tables at the boat ramp.

Murray cod are also subject to a closed season, meaning they cannot be taken or possessed on, in or near Victorian waters during this time. The closed season for Murray cod is from 1 September to 30 November inclusive. Lake Eildon and the waters south of the Great Dividing Range are open year round, except the Yarra River.

Murray cod are often mistaken for trout cod. See the differences in the images below.
Trout cod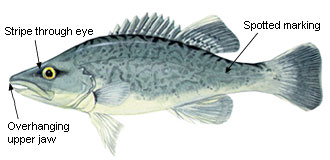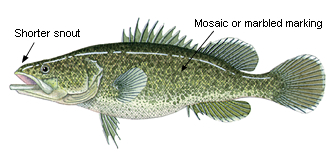 Specified lakes and impoundments
Albert Park Lake
Benalla Lake
Big Meran Lake
Booroopki Swamp
Boga Lake
Buffalo Lake
Cairn Curran Reservoir
Charlegrark Lake
Charm Lake
Cooper Lake
Cullulleraine Lake
Eildon Lake
Eppalock Lake
First Reedy Lake
Greens Lake
Harrietville Dredge Hole
Hume Lake
Kangaroo Lake
Kow Swamp
Laanecoorie Reservoir
Lascelles Lake
Moodemere Lake
Nagambie Weir (Defined as all impounded waters upstream of Magambie Weir to Chinamans Bridge on the Goulburn River and inclusive of Lake Nagambie)
Nillahcootie Lake
Numurkah Lake
Taylors Lake
Victoria Lake (Shepparton)
Walkers Lake
Waranga Basin