Rock Lobster (all species)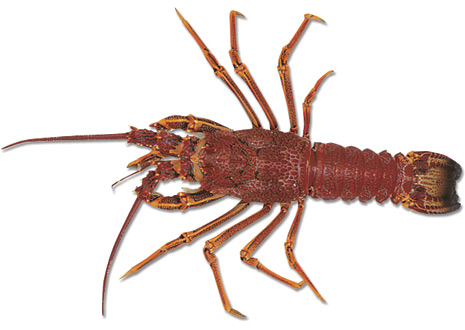 Common Name/s:
Rock Lobster
Scientific Name:
Palinuridae including Eastern Rock Lobster (green crays), Sagmariasus verreauxi and southern rock lobster Jasus edwardsii
Minimum legal size:
Male - 11 cm carapace length.
Female - 10.5 cm carapace length.
Bag limit:

2

Possession limit:

4

Closed season:

Male - 15 September to 15 November inclusive.
Female - 1 June to 15 November inclusive.

Rock lobster cannot be taken from the Intertidal Zone in Port Phillip Bay. Rock lobster must be retained whole or with the tail and carapace still attached to each other.

Note:

You must not take or possess female rock lobster with eggs, or remove eggs.

You must not take soft-shelled rock lobster.

Collection methods for rock lobster

- By hand; or

- Not more than 2 hoop nets (see Using Equipment in Marine Waters). In the closed season (15 September to 15 November), hoop nets must not be used, set or immersed in any marine waters other than Port Phillip bay, Western Port, the Gippsland Lakes, and in any inlet.

When fishing for rock lobster you must not use or possess any snare, gaff, hook or other device designed for, or capable of taking any fish.

Measuring your catch:

Rock lobster is measured from the front edge of the groove between the large antennae to the nearest part of the rear edge of the carapace (main body shell). Divers are required to measure rock lobster underwater prior to placing them in their catch bag.

Measuring devices are available free of charge from our Customer Service Centre on 136 186.

Rock lobster tagging program
As of 1 July 2017 it is a legal requirement to tag your rock lobsters.
Learn more and order your tags
Marking of rock lobster

All rock lobster taken by recreational fishers are to be tail-clipped or tail-punched with a hole not less than 10 mm in diameter. This must be done within 5 minutes of bringing rock lobsters onto a boat or, if taken from the shore, within 5 minutes of landing and within 50 m of the place of landing.

Distinguishing features of male and female rock lobster: