Statutory Certification
I certify the attached Financial Report for the Recreational Fishing Licence Trust Account has been prepared in accordance with the Fisheries Act 1995.
I further state that, in my opinion, the information set out in the Receipts & Disbursements Report and notes to the financial report, presents fairly the financial transactions during the year ended 30 June 2012.
I am not aware of any circumstance which would render any particulars included in the financial report to be misleading or inaccurate.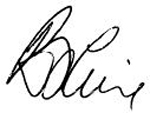 Robert Krix
Manager - Statutory Consultation
Fisheries Victoria Authority
22/08/12
Back to contents