Foreword
A report to each House of Parliament on the disbursement of Recreational Fishing Licence Revenue from the Recreational Fishing Licence Trust Account, 2011-12
The Government continues to build a strong partnership with recreational fishers by providing better opportunities for recreational fishing. Ensuring the growth of Victoria's world class fisheries is a high priority for the Government as fishing is a popular pastime for more than 720,000 Victorians and supports regional businesses ranging from hotels to bait and tackle stores.
The Government is also committed to ensuring Victorian recreational anglers have a say in how their licence fees
are spent.
Every year the Victorian Government, through the Recreational Fishing Licence (RFL) Trust Account, disburses revenue derived from the sale of RFLs to projects that will further improve recreational fishing opportunities in Victoria.
During 2011/12, the Recreational Fishing Grants Working Group continued to provide sound advice on the expenditure of all RFL revenue, and on the operation of the three-tiered Recreational Fishing Grants Program which comprises:
A Small Grants Program - that is continually open to fund small projects up to $5,000;
A Large Grants Program for projects from $5,001 to $100,000; and
A Commissioning Program for large priority projects generally in excess of $100,000.
The eight-member Working Group, made up of recreational anglers from across the State, understand the needs of recreational fishers, and I look forward to continuing my relationship with the Working Group into the future.
I am pleased to advise that the hugely popular Small
Grants Program continues to fund local fishing clubs and groups with a further 49 projects worth more than $123,000 funded during 2011/12, following consultation with the Working Group.
In May 2012, I announced that over $1.2 million will be allocated to 16 projects through the 2011/12 round of the Large Grants Program for anglers of all abilities. These projects include the creation of an estuary perch fishery in South West Victoria, building fishing platforms, improving access to key fishing locations, a rock fishing safety campaign, improving fish habitat and undertaking important research.
$1,070,000 of RFL Trust Account revenue will also be allocated to co-fund the deployment of eight recreational fishing reefs in estuaries in regional areas and the construction of one large scale off-shore reef at Torquay.
A further $779,500 will be used to co-fund the 'Building Northern Native Fisheries' project, which aims to improve angler access and significantly increase fish stocking in the Campaspe, Loddon and Gunbower Creek systems.
These projects are in addition to over $330,000 that will be allocated to produce and distribute a wide variety of recreational fisheries communications products that help anglers better understand and voluntarily adopt good recreational fishing practices and comply with fishing rules.
During 2011/12, Recreational Fishing Licence Trust Account funds were also committed or disbursed to fund:
VRFish to provide advice to the Victorian Government about the broad range of recreational fishers' views on the management of the State's fisheries resources;
The Victorian Fishcare program;
The 2010/11 and previous rounds of the Recreational Fishing Grants Program for access and facilities, education, information and training, and recreational fisheries-related research and fish habitat improvement projects.
Expanded stocking of native fish and trout into Victorian rivers and impoundments;
The deployment of thirteen Fisheries Officers;
Recreational Fishing Licence sales commissions; and
The costs and expenses incurred in the administration of the Recreational Fishing Licence, the Recreational Fishing Grants Program, and the Recreational Fishing Grants Working Group.
I have pleasure in providing to each House of Parliament this report on the receipts and disbursements from the Recreational Fishing Licence Trust Account for 2011/12.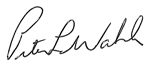 The Hon. Peter Walsh MLA
Minister for Agriculture and Food Security
26/8/12
Back to contents