Murray Cod Million Lake Eildon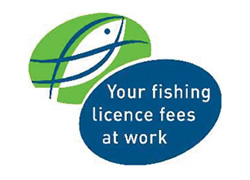 One million extra Murray cod have been stocked into Lake Eildon over the last three years.
The $800,000 project, funded entirely by recreational fishing licence fees, commenced in December 2010 with the first batch of 333,333 Murray cod fingerlings.
The millionth Murray cod was stocked in January 2013.
These million cod are in addition to the 50,000 cod fingerlings that Lake Eildon normally receives each year.
Stocking summary
| Summer | Million Murray cod project | Normal allocation | Total |
| --- | --- | --- | --- |
| 2010/11 | 333,333 | 50,000 | 383,333 |
| 2011/12 | 333,333 | 50,000 | 383,333 |
| 2012/13 | 333,334 | 50,000 | 383,334 |
| Sub-total | 1,000,000 | 150,000 | 1,150,000 |
Monitoring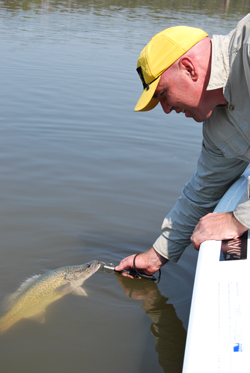 To determine how these large stockings of juvenile cod survive and contribute to the fishery, the stockings are accompanied by a monitoring program involving anglers and researchers.
Last summer (2011/12) shore based bait anglers reported catching small Murray cod between 12 and 18cm around the Fraser camping area of Lake Eildon National Park. These small cod are a strong indication that some of our fingerlings from the first year's big release have survived and grown well.
This summer (2012/13) Lake Eildon has fished well for Murray cod. Small fish of less than 50cm could be from the first batch of 333,333 fingerlings released in the summer of 2010/11. Fish larger than 60cm almost certainly are from older stockings – see fish stocking reporting.
The monitoring program will clarify the contribution these million fish make to the overall cod population at Lake Eildon because all of the fingerlings have been marked to differentiate them from wild cod that may be naturally breeding in the lake.
Existing fishery
More than 730,000 Murray cod fingerlings were released into Lake Eildon between 1994 and 2010, before this project commenced.
Those stockings helped create an existing cod fishery at Lake Eildon, which many anglers are enjoying right now. Fisheries Officers report that Murray cod of 55 to 65cm are increasingly common with a few anglers encountering much bigger fish, some over 1 metre.
Cod catches are coming from throughout the lake too, not just the Delatite Arm, which is the traditional home of native fish in Lake Eildon. Big River and Goughs Bay produced a number of legal sized cod last summer (2011/12) for anglers prospecting the shoreline.
The future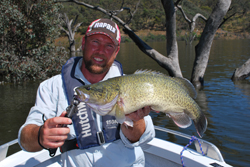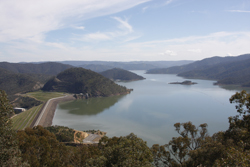 If this summer's (2012/13) fishing is anything to go by, Lake Eildon is rapidly establishing itself as a genuine Murray cod destination.
Hopefully, we can look forward to even better cod fishing at Lake Eildon in years to come when these million Murray cod reach take-able size.