Using equipment in inland (freshwater) waters
Lines, hooks and jigs
A maximum of 2 lines per person, whether attached to rods or not, are permitted in inland waters, with no more than 2 hooks or 1 bait jig attached to each line. You may not leave a line or rod and line unattended in any Victorian water.
Hooks: A gang of 4 hooks (i.e. linked together by the eye), a treble hook, a keeper hook or a single hook are each classed as 1 hook. Lures and jigs are also classed as 1 hook.
You may use up to 10 baited lines (no hooks) for yabbies and spiny freshwater crayfish. Catch limits apply.
Bait nets (Hauling nets)
You may use a bait net to take bait from the following inland waters only:
any lake, swamp, marsh or lagoon;
Curdies River between the 'Narrows' and the bridge on the Great Ocean Road at Peterborough.
Fitzroy River downstream from the boat ramp;
Glenelg River downstream from the southern boundary of the lower Glenelg National Park;
Hopkins River downstream from Rowans Lane to within 200m of the mouth of the river (see Definition);
Merri River downstream from the Princes Highway, except within 400m in any direction from the footbridge at Pickering Point;
Snowy River downstream from the Government Wharf at Marlo;
Surrey River downstream from the Princes Highway;
Wimmera River downstream from the bridge on the Stawell-Marnoo Road to Lake Hindmarsh.
Maximum dimensions of a bait net are the same as those specified for marine waters. A bait net must not exceed 6m in length. Hauling ropes attached to each end also must not exceed 6m. Bait nets do not include cast nets, which are prohibited.
Hoop nets
You may use hoop nets that are labelled to take spiny freshwater crayfish and yabbies.
A maximum of only 5 hoop nets are permitted in the waters, any streams or tributaries flowing into the waters any any impoundment on the waters of:
Carrol's Creek;
Glenelg River system (excluding Rocklands Reservoir);
Goulburn River system (excluding Lake Eildon);
the Kiewa River system;
the Latrobe River system;
the Mitta Mitta River system (excluding Lake Dartmouth);
the Ovens River system;
Ryans Creek;
Tarra River system;
Waranga Basin;
Wodonga Creek
A maximum of 10 nets (either hoop nets or open top lift nets) may be used in all other inland waters, including Lake Eildon, Rocklands Reservoir and Lake Dartmouth (see Definition).
Maximum dimensions of a hoop net are the same as those specified for marine waters: a hoop net is a cylindrical net open at the top, consisting of 1 or 2 hoops not exceeding 77cm in diameter. The net must not have a drop of more than 50cm.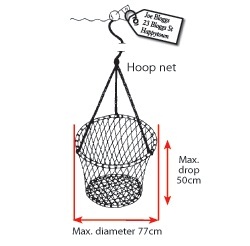 Open top lift net
Open top lift nets are any pot or net open at the top not exceeding 60 cm long or more than 60cm wide or with a mesh net height of more than 15cm and a top opening of no less than 20cm by 20cm without any internal device, that is designed for use, or is capable of being used, in connection with the taking of yabbies.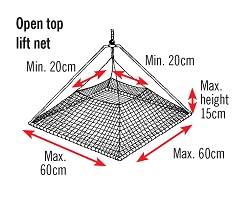 Open top lift nets can be used in all public waters aside from the following:
Carrol's Creek
Ryans Creek
Wodonga Creek
The Ovens River system
The Tarra River system
The Latrobe River system
The Kiewa River system
The Mitta Mitta River system (except Lake Dartmouth)
The Glenelg River system (except Rocklands Reservoir)
The Goulburn River system (except Lake Eildon)
Waranga Basin
The reason we don't allow open top lift nets to be used in the above waterways is because they contain lots of Murray spiny crays and other protected cray species. Open top lift nets can't be used in these systems because they will catch spiny crays and that is not what they were intended for.
Opera House nets
The use or possession of opera house nets is prohibited in, on or next to all Victorian public waters.
Opera House nets can only be used in private inland waters such as farm dams where a maximum of 3 nets applies.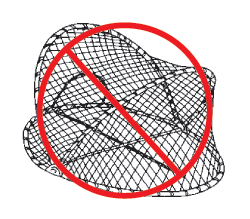 Gaff
A gaff can only be used to assist anglers to take or land fish (other than invertebrates). A gaff can only be used with a rod and line or handline.
Bait traps
A maximum of 2 (labelled - see below) bait traps are permitted per person.
Funnel entrance diameter must not exceed 5cm.
The height of the trap must be no more than 25cm. The trap must also be within the confines of 25cm wide and 50cm long.
Labelling of hoop nets and bait traps
Hoop nets and bait traps must be attached to a tag that remains above the water's surface with the recreational fisher's full name and place of residence clearly and legibly written.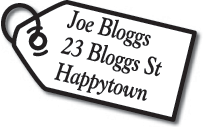 Dip net
A maximum of 1 dip net may be used to take a variety of fish or invertebrate species, with or without a light.
A dip net consists of an open-faced net with a width and depth not exceeding 90cm, attached to a handle.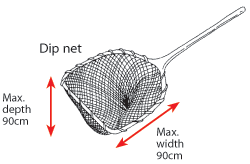 Set lines
Set lines and their snoods and other parts of set lines may not be used or possessed by recreational fishers in Victorian waters.
Spear guns
The possession of a spear gun in, on, or next to any inland water is prohibited.