New Murray cod catch limits for Victoria
In response to angler feedback and following further consultation between Victorian and New South Wales fisheries jurisdictions, Ministers' responsible for fisheries in each state, recently announced a commitment to align the minimum and maximum size limits for Murray cod. Other Murray cod regulations relating to bag limits and seasonal closures will vary between New South Wales and Victoria.
In Victoria, from 1 December 2014, new Murray cod catch limits will apply to recreational anglers fishing Victorian waters:
55 to 75 cm slot limit state-wide
Reduction in bag limit from 2 to 1 fish per day in rivers, whilst maintaining the bag limit in lakes and impoundments at 2 fish per day.
Summary of feedback
The decision to implement the proposed changes was informed by feedback and substantial support from recreational fishers during public consultation process which included, a fisher reference group, video presentation, consultation paper, public forums, Facebook posts and written submissions.
Seventy-seven written submissions were received during the sixty day consultation period, in which strong support was given for the proposed changes including;
53% preferred the proposed change in bag limits from 2 to 1 fish per day in rivers,
58% in support of a change in bag limits,
87% in support of a change in size limits,
Two department Facebook posts were collectively viewed 55,852 times, received 551 'likes' and 388 comments and were shared with other Facebook accounts 358 times.. Of the 189 comments that revealed their opinion of the proposal, 72% provided unconditional support, 22% provided conditional support and 6% were unsupportive of the proposal. The remaining 199 comments didn't revealed their opinion of the proposal (e.g. tagging other Facebook friends to view the proposal).
New South Wales Fisheries were also consulted with a view to aligning size regulations between states.
Background
Murray cod are an iconic Australian native species particularly valued by recreational fishers. Murray cod have the potential to grow to large sizes. Historically the cod populations would consist of relative high numbers of larger fish. However, fisheries surveys show that the numbers of large fish in many of Victoria's river systems are relatively low and that there is a correlation with the current minimum size limit. This indicates that the size structure of Murray cod populations in many locations is impacted by recreational fishing.
The changes to Murray cod regulations are expected to improve the species sustainability and fishing opportunities for anglers in the long term. Compared to current regulations, anglers can look forward to significant improvements to sustainability, an increase in the number of large breeding fish in the population and an increase in the number of fish available to harvest.
The changes will be accompanied with an education and compliance campaign to ensure anglers understand the new regulations. The changes will be closely monitored and will be reviewed together with anglers after five years. For more information, please email taylor.hunt@vfa.vic.gov.au
Using science to model fish populations
Fisheries Victoria has been working with recreational fishers across the Murray Darling basin to better understand the population status of Murray cod and what key factors drive and effect their population status in the wild. In particular, the development of Murray cod fish population models has helped us bring together decades of applied research and monitoring information. Armed with this data, Fisheries Victoria embarked on an internal review of Murray cod bag and size limits in 2012. The Murray cod fish population models were used to compare a range of bag and size limit scenarios to investigate which were the most beneficial regulations for both Murray cod populations and the recreational fishery.
How does this relate to the recent changes to New South Wales Murray cod regulations?
NSW have also reviewed their bag and size limits for Murray cod and recently announced the adoption of a 55 to 75 cm slot limit for Murray cod including, the retention of a 2 fish per day bag limit in all waters. They have also removed the closed season for Murray cod in one water (Copeton Dam).
The alignment of News South Wales and Victorian Murray cod size limit regulations was recently agreed by the Ministers' responsible for fisheries in both states. This announcement will reduce recreational fisher confusion over differences between state regulations and improve compliance outcomes. Importantly, this announcement acknowledges the adoption of slot limits as an important fisheries management tool across both states.
Fisheries Victoria will work closely with New South Wales Fisheries to communicate the regulatory changes. Both NSW and Victoria are working to standardise Murray cod monitoring methods to track the performance of Murray cod and measure the benefits that come from these regulatory changes over time.
For the purposes of fishing regulations, Lake Mulwala and the Murray River are NSW waters and Victorian Murray cod regulations do not apply. Lake Hume is Victorian water for fisheries regulation purposes.
Further information
A short video explaining the science and benefits of applying slot length regulations to Victoria's Murray cod recreational fisheries was prepared for the consultation phase and is still useful for anglers wanting to understand more of the Victorian rationale.
Transcript of video (FILE - 4.7 KB)
Consultation Paper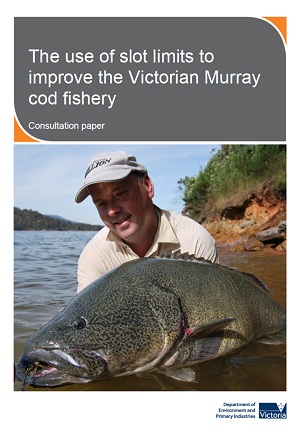 The use of slot lengths to improve Victoria's Murray cod fishery (PDF - 1.5 MB)
The use of slot lengths to improve Victoria's Murray cod fishery (WORD - 1.5 MB)
Recreational fisher contribution
Fisheries Victoria acknowledge and thank all recreational fishers who volunteered their time to participate in the consultation process. This includes representatives of the Victorian Murray Cod Reference Group, recreational fishers who attended public forums, those who provided feedback through Facebook and others who submitted a written submission.