Hazelwood Pondage barramundi fishery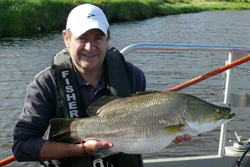 Background
The State Government's Target One Million plan committed to stocking barramundi into Hazelwood Pondage in the Latrobe Valley.
Thousands were stocked, grew very well, and the fishery opened to anglers in December 2016.
Some fantastic fishing was enjoyed by local and visiting anglers. Barra of 85cm were caught. Almost one in four anglers caught a barramundi at Hazelwood.
An independent study showed the fishery had contributed around $700,000 to the local economy.
Facility closure
The Pondage is part of a privately owned power generation facility that closed at the end of March 2017.
Consequently, warm water flows into the Pondage reduced and barra migrated into a channel that received warm ground water pumped from the mine site.
Our monitoring
Recent surveys show these barra are losing condition and some are showing signs of stress. They are depleting local cichlid / tilapia baitfish supplies. To improve the chance of some barra surviving, it has been necessary to reduce their numbers.
Fish losses
In the warm water where barra are gathered, we have harvested approximately around 500 barramundi, some of which were showing signs of stress.
In the public access areas of the Pondage, we have collected only a few barramundi. Most had migrated to the warm waters of the channel.
In the closed section of the Pondage, we have collected approximately 100 barramundi that were stranded behind an enclosure. These fish were unable to find their way to the warmer water of the channel.
Other species
We have collected approximately one tonne of cichlid and tilapia species in the Pondage. Unlike barramundi, it appears most did not move to the warmer water of the channel.
Future plans
We are pulling out all stops to keep the barramundi fishery going!
This includes monitoring the abundance and condition of barramundi, reducing their numbers to align with feed availability and investigating land-based recreational fishing access to the upper channel.
We are in discussion with Engie (private owner) and relevant government agencies to understand the future use of the Pondage and will meet with fishers and government agencies in September 2017 to explore other fish stocking options.
Frequently Asked Questions
For more information about the fishery, including its rules, stocking history and access, plus other frequently asked questions, see the frequently asked questions.