Rock lobster tagging program
Tagging of recreationally caught rock lobsters commenced 1 July 2017
All recreational fishers are now required to tag the rock lobster they catch and keep as part of a three-year trial program.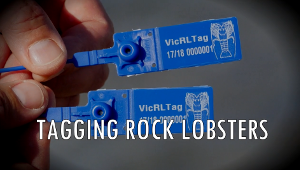 Why did the Victorian Government bring in this program?
Transcript of this video available
here
.
A primary focus for the government is to ensure ongoing access to the rock lobster resource for all sectors, and a healthy, sustainable and well-managed fishery for present and future generations to enjoy.
Currently, there is a lack of information on how many rock lobsters are harvested by the recreational sector. The tagging program will collect information on the numbers caught recreationally by using the number of tags used to represent the number of rock lobsters caught.
How do I get tags?
Tags are free and can be ordered online or collected from selected Victorian Government Offices.
Online
You need to create an online account.
Your account will be your one-stop-shop to order tags, report tag use, transfer tags to other fishers and access information about the tagging program requirements.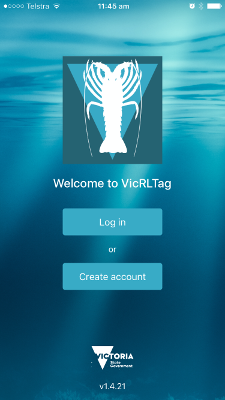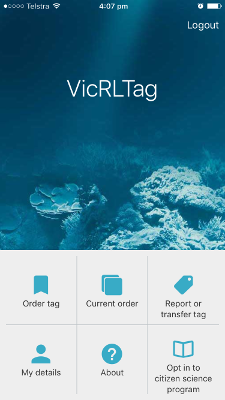 You can create and access your account via the Lobstertag website or via our VicRLTag app, which is available in iOS and Android versions from the Apple Store or Google Play store.
Access the website here: Lobstertag online account
Download the VicRLTag app from the Apple Store

.
Download the VicRLTag app from the Google Play store

.
Government Offices
Tags are available over the counter at the following Victorian Government Offices.
VFA Office Queenscliff, 2A Bellarine Highway, Queenscliff
VFA Office Lakes Entrance, 10 Staunton St, Lakes Entrance
DEDJTR Office Warrnambool, 703-709 Raglan Parade, Warrnambool.
DELWP Office Geelong, Level 4, 30-38 Little Malop St, Geelong
DELWP Office Traralgon, 71 Hotham St, Traralgon
Staff at these offices will be able to assist you in creating your account and obtaining tags. If you have already created your account, simply complete the ordering component while at the office.
What do I need to know about the tag program?
Tags
Are free.
Are unlimited in number each season.
Expire at the end of the season.
Are individually numbered and registered to you.
Tagging is mandatory
You must use tags even if you are exempt from holding a Recreational Fishing Licence.
You must only use the tags assigned to you.

Exception: children under 18 years and fishing for rock lobster under the direct supervision of an adult can use tags assigned to the adult.

Tags must be attached within 5 minutes of bringing rock lobster onto a boat, or if taken from the shore, within 5 minutes of landing and within 50 metres of the place of landing (these conditions are consistent with existing tail fin clipping requirements).
Possession limit
You can have up to 20 tags at any one time.
To order more tags, simply report the ones you've used through the website or app, then order more.
Tags are transferable
Tags can be transferred to anyone with an existing VicRLTag account.
Tags must be reported
Used tags must be reported with date and location of use and the lobster's carapace length.
All tags in your possession must be reported by the end of the season (used, not used, lost).
Current regulations
There won't be any changes to bag or possession limits or existing tail fin clipping requirements or closed season dates for male and female rock lobster.
What do I have to do with the tags?
Get online.
Create a personalised account and password.
Order tags.
Securely attached a tag to the base of the antenna of each lobster you take from the water before you leave the place of landing (i.e. the beach or the boat).
Report tag use and order more tags if you want to.
Report on all tags in your possession by the end of the season.
What are the seasons for tags?
Year 1: 1 July 2017 to 15 September 2018.
Year 2: 16 November 2018 – 15 September 2019.
Year 3: 16 November 2019 – 15 September 2020.
Please note that the post-dated 'use, non-use or loss' of tags can be reported throughout the closed season (15 September to 15 November inclusive for male rock lobster and 1 June to 15 November for female rock lobster).