Dartmouth Pondage visitor fishing area information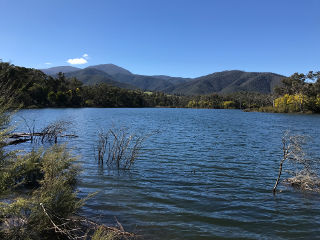 Download the below information here. (PDF - 11.5 MB)
On 1 May 2018, the Dartmouth Pondage in northeast Victoria reopened to fishing.
Days later it was stocked with 20,000 trout from our Snobs Creek hatchery.
The fishing area provides convenient shore-based fishing opportunities for locals and visitors during daylight hours.
Amenities and the fishing area are kindly maintained by volunteers from the Dartmouth Progress Association with support from us. Do your bit and take rubbish home.
The fishing area may be closed occasionally when there is a risk to public safety, flood, fire, on declared Code Red days, or for water management purposes.
The water level in the Pondage can rise suddenly and is very cold so anglers should maintain an awareness of the water level and obey signage by not wading and not fishing at night.The re-opening project was funded by the State Government's Target One Million plan, which is investing a record $46 million to get more people fishing, more often.
General information
The Dartmouth Pondage is a small regulating pond also known as Lake Banimboola. The dam wall is located about nine kilometres downstream of Dartmouth Dam and is used to regulate water releases from the dam into the Mitta Mitta river downstream. The pondage wall is concrete and incorporates 3 sets of regulating gates and 3 penstocks that deliver water to a spillway. It has a hydroelectric power station, which at 12.5 MW is considerably smaller than the main Dartmouth power station. Both the regulating pondage and the main Dartmouth Dam power station are operated remotely from the AGL Hydro Control Centre in Mount Beauty.
Rising water
The Dartmouth Pondage water levels can rise quickly and unexpectedly, due to the nature of its operations. At lower water levels, fast flowing currents are present, however rising water often appears calm and stable and anglers may not immediately notice water rising around them.
IMPORTANT: Wading is prohibited, and it is paramount that anglers constantly monitor the water level and ensure that they familiarise themselves with a pathway to higher ground.
Cold water
Water entering the Dartmouth Pondage is exceptionally cold as it comes from the deepest and coldest part of the Dartmouth Dam. Immersion in cold water can quickly result in hypothermia, even when warm air temperatures are present.
IMPORTANT: Swimming, wading and any other form of water entry is prohibited.
The fishing area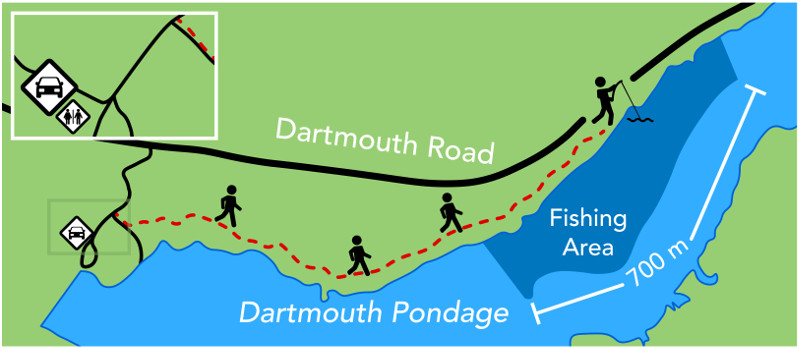 The designated fishing area is roughly 700m long and clearly marked by bollards that extend out into the water. This area is considered the safest part of the lake for fishing access due to its flat open terrain at varying lake levels and is the only area where fishing is allowed.
Access to the fishing area is via a marked walking track, roughly 700m in length. The track begins at the car parking area as marked on the map and ends at the bollarded fishing area. The track is lightly undulating, and minor fitness are recommended. At high water levels, the track may become inundated with water.
IMPORTANT: Access to the shoreline outside of the bollarded area is prohibited.
Open/Closed times
Fishing access to the Dartmouth Pondage is during daylight hours only.
Access may be temporarily closed from time to time. This will occur for reasons such as bushfire, flood, emergency management or water management purposes. Notification of closures will be provided on the Victorian Fisheries Authority Facebook page and on this page.
Note: The fishing area is closed on all declared Code Red days.
Emergency information
In case of emergency, call 000.
Note: Mobile phone coverage in the greater Dartmouth area can be unreliable. Please check with your service provider.
Site maintenance
Visitor amenities and the fishing area are kindly maintained by volunteers from the Dartmouth Progress Association with support from the Victorian Fisheries Authority. Do your bit and take rubbish home. To report any vandalism or damage, call 13FISH.
Fishing information
Dartmouth Pondage is open to fishing throughout the entire year and is stocked annually with Brown and Rainbow Trout. Winter and spring are good times to go fishing for both brown and rainbow trout. A mudeye or worm fished under a float is very effective. Commercial dough baits also work well when fished on the bottom. Lures with silver, gold or pink colouring are all great. Early in the morning or late in the evening are the best times.
You may also like to try fly fishing for trout. This requires a special rod and type of line and artificial flies are used to imitate a range on insects and other things that trout eat.
It's important to know the rules that apply to fishing. These include bag limits and minimum size limits for different types of fish. A bag limit is how many fish you are allowed to keep in one day. A minimum size limit is how big a fish needs to be in order for you to keep it. There are also closed seasons for some types of fish.
To find out more, please see the Victorian Fisheries Authority's annual Recreational Fishing Guide. Alternatively, download the free Vic Fishing app for iphone and android.
Recreational fishing licences are required, unless exempt – buy one here.