Great bass fishing at Blue Rock Lake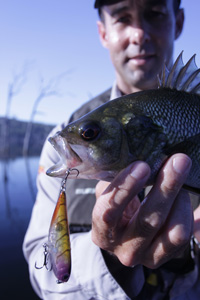 Blue Rock Lake is set to become one of Victoria's best bass fisheries.
Since 2002, more than 240,000 bass fingerlings have been stocked in addition to annual releases of trout.
In August 2015, boating restrictions at Blue Rock Lake, near Moe, were relaxed to allow the use of larger vessels.
The changes were a key commitment in the State Government's Target One Million plan, which aims to get more people fishing, more often.
Fishing boats of any length and any engine size can now operate on Blue Rock Lake.
Jet skis and water skiing will continue to be deterred via a 15 knots speed limit that applies to all boats.
These changes enable freshwater anglers to make the most of the stocked Australian bass fishery in Blue Rock Lake, which has become increasingly popular in recent years.
Other rivers and lakes in Gippsland have been stocked with Australian bass too including Lake Glenmaggie and the Macalister, Avon, Mitchell and Nicholson rivers.