Australian Bass stocking program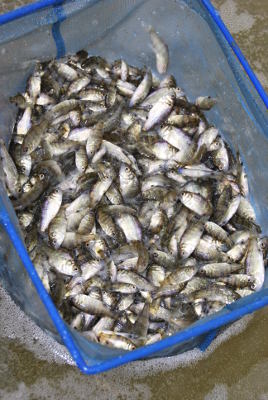 Australian bass are a native fish that inhabit the coastal flowing streams of Gippsland, east of Wilsons Promontory.
They are also found in New South Wales and southern Queensland rivers that flow to the sea. Both of those states have been very successful in creating new recreational fisheries by stocking bass into lakes and impoundments.
In Victoria, wild riverine populations of bass have declined, mostly because fish barriers have inhibited spawning migrations and the upstream return of juveniles. Fish barriers are being removed where possible, and fish ladders installed in other situations, however there remains an opportunity to boost remnant wild bass populations by stocking hatchery reared fish.
Stocking bass into Gippsland waters is relatively new. Some production and stocking occurred in 2002/03, but of a limited magnitude. After several years of attempting to secure reliable hatchery production in Victoria between 2004-08, more success came by working with existing private bass hatcheries in NSW.
Fingerlings are purchased each summer and released into waters agreed to by fisheries managers, anglers and water managers.
Gippsland stocking history
The table below indicates the number of fingerling bass released. On average these fish weigh about 1 gram each and measure 2-3cm.
Location
2002
2003
2009
2010
2011
2012
2013
2014
2015
2016
2017
2018
2019
Jan
Total
Avon River
-
0
15,000
3,000
3,000
3,000
5,000
5,000
5,000
9,000
5,000
57,000
Blue Rock Lake
25,200
10,000
30,000
15,000
15,000
15,000
25,000
25,000
25,000
25,000
30,000
81,000
40,000
380,200
Freestone Creek
0
1,000
2,000
3,000
3,000
9,000
Glenmaggie Lake
29,250
15,000
22,000
22,270
10,000
10,000
10,000
10,000
10,000
10,000
35,000
10,000
193,520
Guthridge Lake (Sale)
0
1,000
1,000
1,000
7,500
10,500
Hospital Creek
3,000
0
3,000
Lake Hyland
3,000
1,000
4,000
Macalister River (below Glenmaggie)
-
2,350
0
4,000
2,000
2,000
2,000
4,000
4,000
4,000
13,500
37,850
Macalister River (from Lake Glenmaggie to Licola)
0
5,000
5,000
5,000
30,000
7,000
52,000
Mitchell River
-
-
0
15,000
5,000
5,000
5,000
10,000
10,000
7,000
110,000
30,000
202,000
Narracan Lake
-
-
20,000
10,000
10,000
10,000
10,000
10,000
10,000
5,000
5,000
90,000
Nicholson River
-
-
-
0
35,000
10,000
10,000
8,000
0
0
63,000
Rainbow Creek
0
2,000
2,000
2,000
3,000
9,000
Snowy River
110,000
40,000
150,000
Tambo River
-
-
-
-
10,000
10,000
8,000
20,000
27,500
75,500
Thomson River, (ds Cowarr Weir)
0
2,000
5,000
5,000
15,000
5,000
32,000
Thomson River, Cowarr Weir
-
0
11,000
2,000
2,000
2,000
5,000
2,000
2,000
4,000
2,000
32,000
Timbarra River
10,000
10,000
20,000
20,000
60,000
Traralgon Creek (Downies Lane to La Trobe River)
0
3,000
2,000
2,000
2,000
1,000
10,000
Tyers River
0
5,000
5,000
5,000
5,000
2,000
22,000
Valencia Creek
0
4,000
3,000
3,000
2,000
1,000
13,000
Wonnangatta River
0
8,000
0
3,000
40,000
51,000
Total
54,450
27,350
52,000
102,270
47,000
82,000
82,000
120,000
120,000
122,000
474,500
185,000
40,000
1,323,570