Find outdoor activities to keep you, your partner or the whole family entertained on your fishing trip. Whales and penguins can be spotted along the coast, and national parks can be found across the region and are close to towns.
Hopkins River and Glenelg River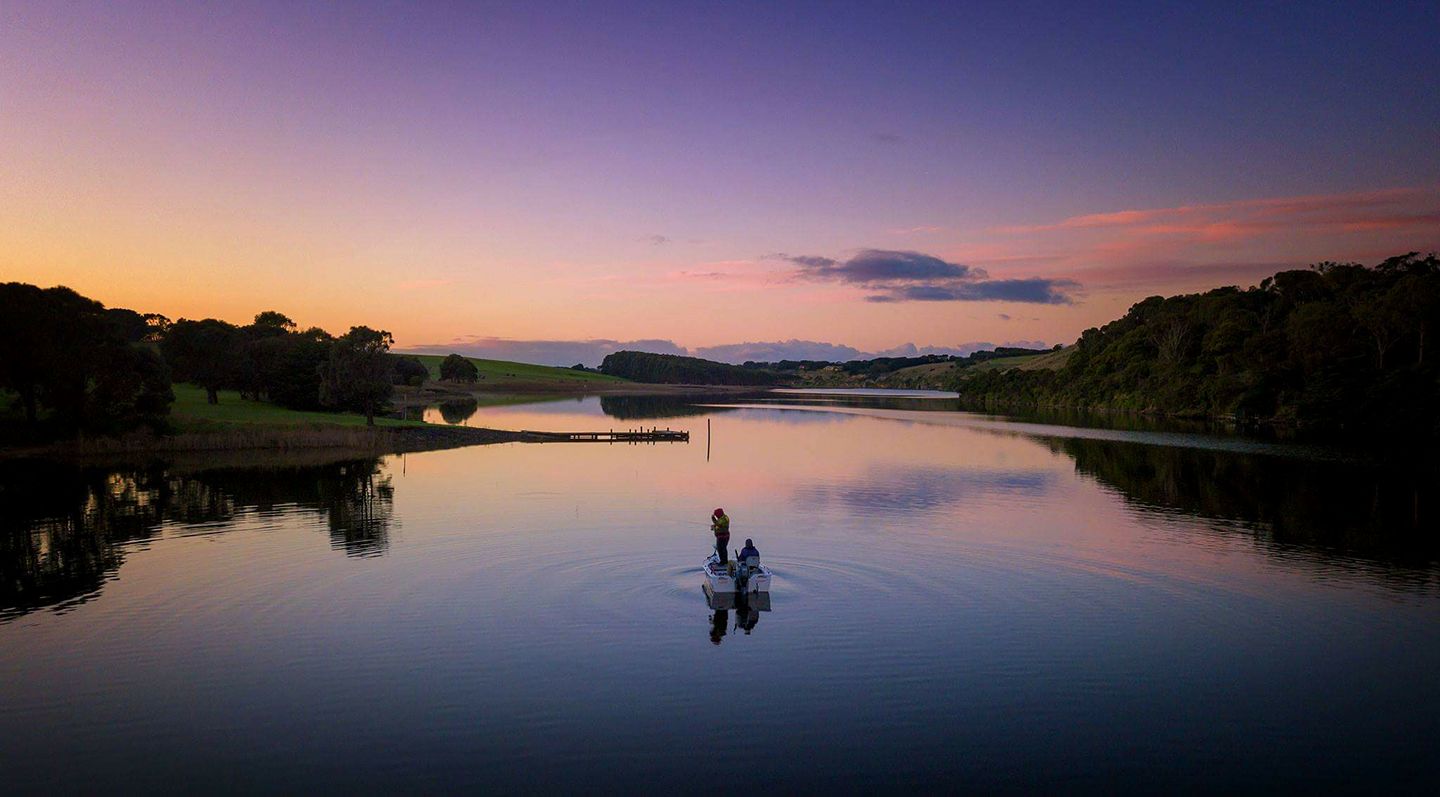 The Southern Ocean can be wild and inhospitable which can keep fishers on shore for weeks at a time with strong winds and big swell. This means it's great to have a backup plan and the far west coast is blessed with amazing opportunities including the Glenelg and Hopkins River systems.
Click here for information on Hopkins River and Glenelg River.
Outdoors
During your stay, spend time in nature and the great outdoors. Take the family on a boat tour of Portland or go for a dive to see marine life. Lake Pertobe is a great stop to stretch the legs or to enjoy a day out with the whole family.
Click here for information on boat tours in Port Fairy or Portland, dive tour, Lake Pertobe, mini golf and Tower Hill Wildlife Reserve.
Food and wine
You'll find restaurants, cafes and bakeries all across the West Coast to keep you full during your visit. Fresh seafood is available from Warrnambool, Port Fairy and Portland, families and couples can enjoy local fish and chips while watching the sunset over the ocean.
Click here to find out more about local produce, and food and wine in Warrnambool, Port Fairy and Portland.
Art & Heritage
Learn about the indigenous history of the area at Tower Hill, or the first settlers at the Flagstaff Hill Village. Events, festivals and heritage walks are available throughout the year and the Warrnambool Art Gallery, which began in 1886, holds thousands of works for people to enjoy.
Click here to learn more about cultural tours, Tower Hill tours, Warrnambool Art Gallery and Flagstaff Hill Village.
Shopping
Known for its retro clothing stores and op-shops, there's a treasure to be found during your visit to the West Coast. Markets are held on weekends throughout the year and sell handmade goods, fruits and vegetables, jams and other locally made products.
Click here for information on markets, second-hand shopping and other shops.
Relaxation
Spoil yourself with a visit to the day spa in Port Fairy for a truly relaxing experience. Enjoy a sonic harmony sound therapy in Portland or visit Victoria's first Hot Springs Hotel at Warrnambool's Deep Blue Hot Springs for something extra special.
Click here for information on day spas in Warrnambool, Port Fairy and Portland.
Other links
Visit Warrnambool - events, activities and things to do.
I Am Port Fairy - experiences, outdoor activities, and what to eat and drink.
Visit Portland - where to visit, stay, eat and drink, and shop.