Record fish stocking of 6 million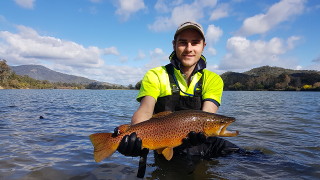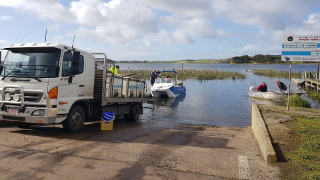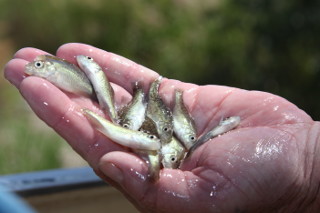 In April 2018, Minister Pulford announced that more than 6 million fish had been stocked over the previous 12 months.
That's 1 million more fish than the Target One Million commitment of 5 million!
Several fish stocking records tumbled in delivering this including:
Record numbers of Murray cod grown at our Snobs Creek hatchery
Record numbers of Murray cod stocked overall (grown by us and purchased from other hatcheries)
Record numbers of golden perch, Australian bass and silver perch released.
The 6 million fish were released into more than 200 waters and consisted of:
| | Species | Number |
| --- | --- | --- |
| Salmonids | Brown trout | 626,865 |
| | Rainbow trout | 543,169 |
| | Brook trout | 3,270 |
| | Chinook salmon | 29,715 |
| Native fish | Murray cod | 1,629,855 |
| | Golden perch | 2,515,981 |
| | Australian bass | 474,000 |
| | Silver perch | 235,000 |
| | Macquarie perch | 17,500 |
| | Estuary perch | 7,000 |
| | Trout cod | 3,500 |
| Total | All species | 6,086,355 |
The full list of trout and salmon stockings and where they went can be found at https://vfa.vic.gov.au/recreational-fishing/fish-stocking/fish-stocking-reporting/salmonid-fish-releases/salmonid-fish-releases-2017
The full list of native fish stockings is at www.vfa.vic.gov.au/nativestocking2018