Biosecurity Control Measures
Decontamination
Decontamination must be undertaken away from the water's edge so that soapy water does not affect the health of waterways, and as soon as reasonably possible after leaving the water.
If you live or have accommodation in the area, decontamination can be undertaken when you return home. If you are from another area and intend to launch your vessel into other waters, the vessel should be taken to a car wash or service station with wash down facilities.
Vessels
All organic matter from inside and outside the vessel should be removed
Wetsuits and Dive Equipment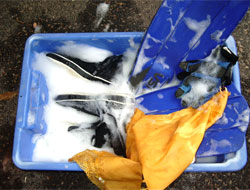 Ideally, wetsuits should be washed with a neoprene wash (available from dive and surf shops) although a mild liquid soap or shampoo will suffice.
Dive tanks, buoyancy vests, regulators and masks that have not come into contact with abalone can be washed down in soap-free freshwater
Equipment that has come into contact with abalone, such as catch bags, gloves, dive knives and measuring devices, should be soaked in soapy freshwater for 30 minutes and then rinsed.
People and clothing
Divers who come into contact with abalone should wash their hands with soapy water.
Spray any waterproof clothing with soapy freshwater and rinse.
On returning home, wash clothes with laundry detergent.
Decontaminated vessels, wetsuits, dive equipment and clothing should be allowed to dry.
Disposal of viscera
Abalone shell, viscera (meat and gut) should not be:
shucked (taken from the shell) at sea,
dumped into the sea,
used as fishing bait.
Take your abalone catch home and dispose of the waste with your household rubbish.