Restricted Fishing Area
Lion Headland to Aire River
Download the PDF version of this document: Restricted Fishing Area flyer (PDF - 235.2 KB)
To minimise the risk of spreading the abalone disease, waters between Lion Headland and the mouth of the Aire River remain closed to most forms of commercial and recreational fishing until 15 November 2009. This is an extension of the previous closure which expired on 30 September 2009.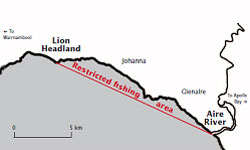 Prohibited
Taking shellfish, including abalone
Taking rock lobster
Spearfishing
Permitted
Line fishing
Snorkelling and diving
Swimming, surfing and boating
If engaging in permitted activities you should:
Wash vessels, wetsuits, dive equipment and your hands with soapy freshwater
Remove all marine organic matter (such as weed) from vessels and equipment
Refrain from using abalone gut as bait.
The disease has no known or likely impacts for human health.
Report illegal fishing to 13 FISH (13 3474).