Dusky Flathead Symposium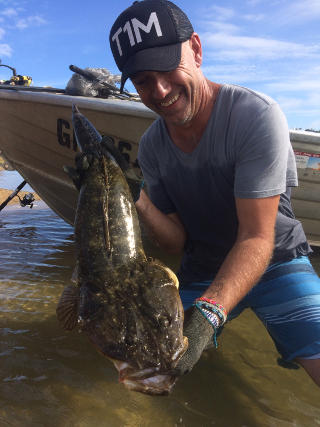 In March we hosted our first Dusky flathead symposium at Lakes Entrance.
As part of the Stage Government's Target One Million plan and a year-long project run by the Victorian Fisheries Authority to improve our knowledge of Dusky flathead in Victoria, recreational anglers were given the opportunity to attend the free event on 10 March 2018 to improve their Dusky flathead knowledge and fishing success.
The symposium featured speakers including Kaj 'Bushy' Busch, Dr Paul Hamer and Dr Brett Ingram of the VFA and a representative from the Gunaikurnai Land and Waters Aboriginal Corporation. Attendees learnt about the ecology and biology of the Dusky flathead, their current status in Victorian fisheries and how we can improve Dusky flathead fisheries and their environments.
In the lead up to the event, the Victorian Fisheries Authority asked anglers to tell us about their experiences with Dusky flathead fishing. The results from the survey were also presented and discussed at the symposium.
If you were unable to attend the symposium, check out our YouTube playlist of the event.