Bass Strait bugs with lime chilli basil butter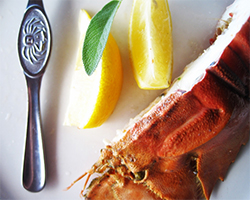 Recipe, compliments of Sam Mahlook from Miriams Seafood Restaurant
To serve 4
Ingredients
12 Bass Strait bugs, preferably live or frozen green
4 tablespoons olive oil, for cooking
200g salted butter, softened
1 bunch basil, finely chopped
2 red chillies, finely chopped
Grated rind and juice of 2 limes
1 tsp sea salt
Method
For the butter, combine all ingredients except bugs and olive oil in a small bowl.
For the bugs, put them to sleep by chilling in the freezer for 1 hr, or thaw if frozen.
Split the bugs right down the middle with a heavy knife and remove the digestive tract.
Heat a heavy based, flat bottomed pan over high heat, add the olive oil and heat to smoking.
Add bugs cut side down and cook for 2 minutes.
Turn bugs onto their backs and cook 1 minute, then turn again and cook for one minute more.
Add the butter mixture at this point and toss the bugs to coat.
Once the butter is a nice golden brown, remove bugs from pan and pour sauce over.
Serve and enjoy!