Gone Fishing Day 2018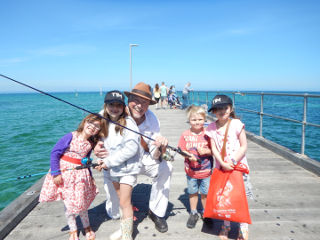 Sunday 14 October is Gone Fishing Day when all Australians are encouraged to get out on the water with family and friends to celebrate our love of fishing.
It doesn't matter if you haven't fished before. Gone Fishing Day is for everyone!
You can join a free fishing event or simply take the family, grab a mate or enjoy some time out for yourself wetting a line.
Getting more people fishing, more often, is at the heart of the State Government's Target One Million Plan, which aims to increase participation to one million anglers by 2020.
Licence free day
A recreational fishing licence will not be required in Victoria on Gone Fishing Day on Sunday 14 October, 2018.
Our events
Where else can I fish?
If events aren't your thing and you're just keen to wet a line quietly, here's some information on fishing locations.
Want to host an event and get funding support?
We're encouraging the angling clubs, community groups, Landcare groups and schools to run their own Gone Fishing Day community fishing events locally on Sunday 14 October, 2018.
Funding is available through the Gone Fishing Day grants program.
Steps to apply for a Gone Fishing Day grant
Step 1: Read the information on the Gone Fishing Day grants program web page.
Step 2: Make yourself familiar with the Gone Fishing Day Grants Program Guidelines and Conditions

[PDF File - 488.9 KB].
Step 3: Complete the Gone Fishing Day Grant Program online application form.
For further information, to discuss a potential project or for assistance with an application please email improving.fishing@vfa.vic.gov.au or call Lachlan Jones on 03 8392 7537.