Silver perch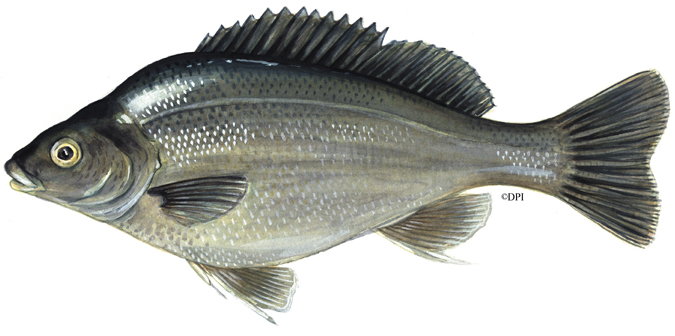 Common Name:
Silver perch
Other Name/s:
Bidyan
Family:
Terapontidae
Scientific Name:
Bidyanus bidyanus
(Mitchell, 1838)
Origin:
Native
Conservation Status
State: Classified as "critically endangered" under the Flora and Fauna Guarantee Act 1988.
Description
Silver perch are a moderate to large fish with a strongly compressed elongate-oval body covered in small, thin scales that have dark margins. Small head with a convex dorsal profile ending in a fairly long snout with conical teeth. Eyes are small. Body deepest along lateral line. The tail is slightly forked. They are usually a silver-grey colour, but vary significantly according to water turbidity, and may become a gold or greenish colour. Whitish or very pale belly and dull grey fins. Juveniles similar, but with dark mottling dorsally.
Distribution
Native to the Murray-Darling river system, silver perch were once widespread and abundant throughout most of the basin area except for cooler high altitude streams. However, they have now declined to low numbers and have disappeared from much of their native range. In Victoria, silver perch have been recorded from 12 river basins including eight where populations occur naturally. The majority of records are from the Goulburn River, Loddon River, Murray Riverina, and Mallee.
The species has been stocked by The Victorian Fisheries Authority into only a few Victorian waters including Lake Cullulleraine, near Mildura and the Wimmera River near Horsham.
Habitat
Silver perch have been recorded in a wide range of habitats throughout the Murray-Darling basin. In rivers, large streams, lakes and impoundments, habitat associations range from upland river rapids, to sandy beaches in turbid lowland rivers. Silver perch is one of the only larger native fish to appear near the water surface.
Brief Biology
This species can grow up to 8 kg and 610 mm, however they more commonly reach 410 mm and 2.5 kg. Silver perch are omnivorous, with algae becoming increasingly important in the diet with age. They undertake long upstream migrations entirely within freshwater.
Generally, spawning occurs in spring to summer with an increase in water level and increase in water temperature above 23°C. Fish aggregate in medium sized schools and after a period of pursuit and cajoling by the male (sometimes several males) the female typically releases around 300,000 spherical pelagic eggs into the water column. The release of sperm closely follows. There is no parental care.
Other Notes
The decline of silver perch populations in Victoria is most likely a result of a combination of factors. Barrier to fish passage, river regulation, introduced species, alteration of temperature regimes and loss of aquatic vegetation are among the most significant.
Aquaculture of this species is well developed and widespread.
Regulations
Recreational Fishing Licence requirements, and the regulations affecting the taking of silver perch in Victoria, are provided in the Victorian Recreational Fishing Guide, available free from RFL sales agents and DEDJTR Offices and Information Centres.
Further Reading
A Guide to the Freshwater Fish of Victoria, Phillip Cadwallader & Gary Backhouse, Department of Conservation and Environment.
Australian Freshwater Fishes, John R. Merrick & Gunther E. Schmida.
Biological Information for Management of Native Freshwater Fish in Victoria, J D Koehn, W G O'Connor.