Early Childhood
"I'd like to be under the sea..."
Your children will journey under the waves and use their senses to uncover the wonders of aquatic life. The early childhood program provides hands-on experiences in which children are encouraged to explore a variety of aquatic life through self-directed learning.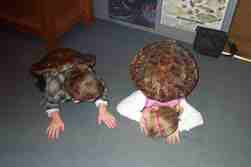 Our education officer will invite the children on an adventure in which they will use their senses to investigate the plants and animals from different marine and freshwater habitats. Throughout the session the children can be involved in role-play using puppets, have the opportunity to create different habitats and play with puzzles, sand, shells and beach washed items.
The children will also have the opportunity to observe and handle living marine animals and plants such as snails, crabs, sea stars and seaweed.
Early Childhood (ages 4 - 6) 1.5 hours (includes a small break in the middle of the session, please bring a snack and drink)
We also cater for playgroups on request.
$10 per child (min. charges apply)
1,2,3,4,5 Once I caught a fish alive poster
View the poster (PDF - 1.9 MB) or Once I caught a fish alive (HTML version)
Thank you to Williams House kindergarten for sharing their song on the poster