Lets go fishing card - Snapper
The card is also available for downloading: Lets go fishing card - Snapper (PDF - 1.6 MB)
Top tips
Spring and autumn are the best times of the year. Try and fish around high tide, especially if this is in the evening. Fishing early in the morning can also be productive.
Snapper will feed actively and come into shallower water when it's windy and there is a chop on the water. This is a good time to fish from piers.
Soft plastics work very well on pinkies. Use ones that imitate a small fish.
Fish by the rules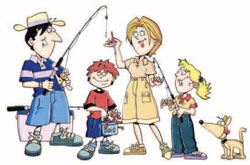 It's important to know the rules that apply to fishing. These include bag limits and minimum size limits for different types of fish. A bag limit is how many fish you are allowed to keep in one day. A minimum size limit is how big a fish needs to be in order for you to keep it. There are also closed seasons for some types of fish.
What are they?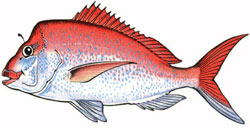 Snapper are a marine species found along the entire Victorian coastline. They can grow quite large. The body is silver and crimson to dark red in colour with bright blue spots. Small snapper are commonly called pinkies.
Getting geared up
| | |
| --- | --- |
| | |
| medium spinning rod | soft plastic |
| | |
| hooks | 7 kg line |
| | |
| sinkers | swivels |
| | |
| landing net | |
Great baits
| | |
| --- | --- |
| | |
| squid | pipis |
| | |
| pilchards | whitebait |
Select a spot
Small pinkie snapper can be caught at various times of the year from structures such as piers and breakwaters. They will enter estuaries during the warmer months.
Hot spots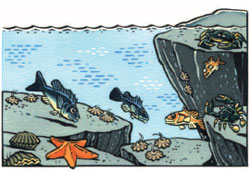 Western Port
Port Phillip Bay
Corio Bay
Port Albert
Portland