Holiday program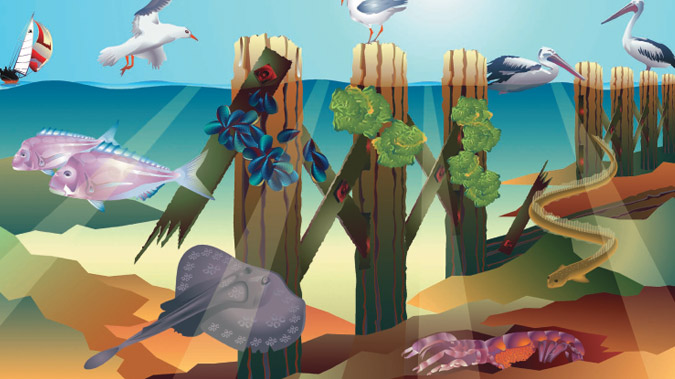 Daily DIGITAL Holiday Activity
Friday 2 October
Port Phillip Heads revealed!
To finish up the week and school holidays, sit back and enjoy our magnificent marine environment with an amazing video from our awesome aquarist Allie.
'Despite the visibility not being excellent, the critters and colour of the reefs made it hard to say goodbye. I have completed more than 1000 dives in this area, and it still holds an allure. The incredible shapes of the limestone reefs, rich plant and invertebrate life, and the unusual animals unique to southern Australia make this an incredible temperate diving location. This video was all shot on one day, at 3 different dive sites within a few kilometres of Port Phillip Heads.' Allie
List the names of the animals you saw in the video. Use the Port Philip Bay Toolkit to see more video of underwater habitats and the animals that are found there and to help you identify the animals you saw in Allie's video.
Could you please take a minute and let us know what you thought of our activities (and delivery) for these holidays? Please email us (marine.discovery@vfa.vic.gov.au) with some feedback.
Previous days activities can be found here!
Contact marine.discovery@vfa.vic.gov.au to be added to our email mailing list and receive a new activity each day.
Victorian Nature Festival : A free virtual nature festival
Monday 28 September to Saturday 11 October

The Victoria nature festival is completely online and runs for 2 weeks and has over 100 free events that are open to all.
The VFA's MFDC has a virtual booth - check it out here
Check out the whole range of events here!
More information?
Email:

marine.discovery@vfa.vic.gov.au
—send us your details and we will email your daily activity.

Phone:

(03) 5258 3344

If there is no answer leave a message, we will return your call

Online:

search—marine and freshwater discovery centre