Sustainable Recreational Fishing
Purpose:
Promote the history of fishing in the area
Demonstrate human impacts
Develop sustainable fishing skills and knowledge
Promote the Recreational Fishing Guide and Code of Conduct
Raise awareness of Marine National Parks
Location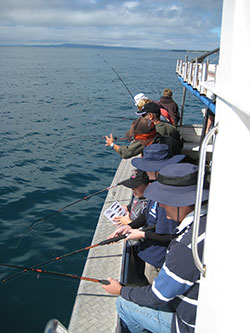 Port Phillip Bay, leaving from Queenscliff Marina.
Duration
Boat trip - two hours.
Marine and Freshwater Discovery Centre aquarium visit – 30 minutes.
Cost
Cost - $650
Further Information
For further information and bookings contact our Bookings Officer on Phone: (03) 5258 3344
Or go to our Booking Enquiry Form