Report a shark sighting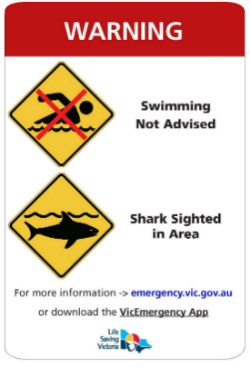 Report any shark sightings immediately to Victoria Police via '000'.
You will be asked to provide:
date and time of the sighting
location – be as specific as possible and include the beach or landmark name and distance from shore (quote emergency beach markers if nearby)
shark species (if known) and any distinguishing features
estimated size
contact details for follow up.
The sighting will be reported through VicEmergency.
In the unlikely event of a shark attack, call 000 immediately and ask for ambulance.
Visit VicEmergency for all emergency warnings including shark sightings at patrolled beaches. Download the VicEmergency App from the App Store or Google Play: