MFDC volunteering program
The Marine and Freshwater Discovery Centre, Queenscliff
Located on the shores of Swan Bay in Queenscliff, The Victorian Fisheries Authority Marine and Freshwater Discovery Centre allows communities to understand better and manage our unique marine resources and environment.
We have close links with current scientific research and resource management practices relating to marine and freshwater environments.
Visitors to the centre experience hands-on interaction with the marine environment at our touch tank and aquariums or by taking part in activities such as rockpool rambles, boat trips, snorkels and mudflat meanders.
Volunteering during Covid-Safe times
We are welcoming volunteers back to the MFDC, in a COVid safe manner. The number of volunteers and roles in which Volunteers can act may will vary as DHHS guidelines change.
Volunteer Training
Over its 25-year history, the Marine & Freshwater Discovery Centre is fortunate to have had the support of hundreds of volunteers.
The main role of the volunteers is to support and participate in the interpretative and educational programs conducted by the Marine & Freshwater Discovery Centre.
Volunteers may assist with any of the following:
Interpretative assistance – in the centre, on rockpools, mudflats, snorkels, canoes or boat trips.
Technical assistance – collecting food for our animals, feeding, and maintaining tanks.
Are there any particular requirements?
Volunteers must be over 18 years of age and must be willing and able to give generously their time and talents. It is not essential to have prior knowledge of marine or freshwater biology, we will train you along the way.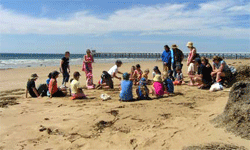 Volunteer Commitment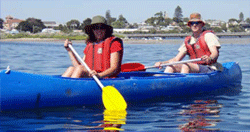 As a Marine and Freshwater Discovery Centre volunteer, you must be able to provide an ongoing commitment throughout the year, especially during our school holiday programs.
Unfortunately, we cannot accept short-term volunteers.
What is the application procedure?
Intending volunteers need to register their interest. Please fill out the application form:
Please get in touch with us if you require any further information.
Marine and Freshwater Discovery Centre
PO Box 114, Queenscliff, 3225
Ph: (03) 5258 3344
Email: marine.discovery@vfa.vic.gov.au