Professional Learning Programs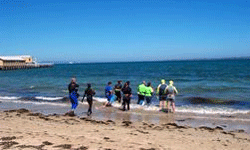 The Marine and Freshwater Discovery Centre conducts activity based professional development programs for teachers during the year. The professional development programs at the Centre complement the VELS, CSF and / or VCE study designs. Professional development programs can be designed specifically to suit your schools needs.
Please call us and speak to one of our education officers if you are interested in a program specifically for your school.