Education Program
Our experienced and qualified education officers know just how to engage students with exciting experiences both indoors and out.
Authentic, hands-on learning experiences are vital components in education. That's why all our education programs, from early childhood to tertiary, are designed to provide students with enjoyable, interactive, and educational experiences.
Educational programs for students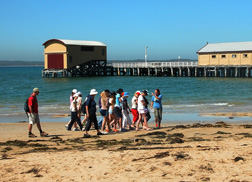 Click one of the links below to find out what the Marine and Freshwater Discovery Centre can offer students.