Commercial Pipi Fishery
Pipi is the common name given to the small bivalve, Donax deltoides, which is found on high-energy sandy beaches in the intertidal zone.
The Victorian fishery covers the entire Victorian coastline, with the exception of Port Phillip Bay and Marine National Parks where shellfish cannot be harvested in the intertidal region. However, the fishery is only currently open at Discovery Bay (targeted primarily by commercial fishers) and Venus Bay (primarily a recreational fishery).
A number of licence classes are authorised to harvest pipi for commercial purposes, however, a majority of the harvest to date has been taken under the non-transferable Ocean Fishery Access Licences (OFAL). Fishers primarily use dip-nets to harvest pipis.
The Fisheries (Victorian Pipi) Notice, which has been in place since 2013, details the current management arrangements for this fishery. This includes closures (with Discovery Bay and Venus Bay remaining open to fishing), a size limit of 35 mm and a requirement to prior-report fishing activity.
Commercial Pipi Fishery map description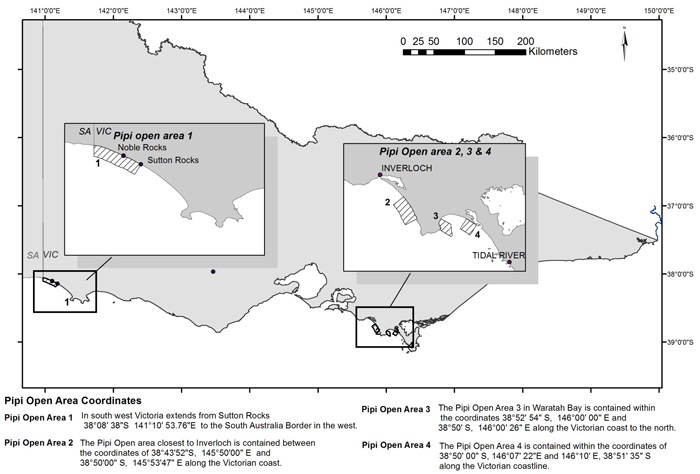 The open area in south west Victoria at Discovery Bay extends for approximately 20 kms west of Suttons Rocks to the South Australian border.
There are three open areas at Venus Bay, east of Inverloch. The area closest to Inverloch commences approximately 2 kms east of the Venus Bay township and extends approximately 12 kms towards Cape Liptrap peninsula.
The western area in Waratah Bay commences just south of the Walkerville South township and extends approximately 6 kms north into Waratah Bay. The eastern Waratah Bay area commences at the Sandy Point township and extends west for approximately 4 kms.
Pipi Open Area coordinates
Pipi Open Area 1
In south west Victoria extends from Sutton Rocks 38°08'38"S, 141°10'53.76"E to the South Australian Border in the west.
Pipi Open Area 2
The Pipi Open Area closest to Inverloch is contained between the coordinates of 38°43'52"S, 145°50'00"E and 38°50'00"S, 145°53'47"E along the Victorian coast.
Pipi Open Area 3
The Pipi Open Area 3 in Waratah Bay is contained within the coordinates of 38°52'54"S, 146°00'00"E and 38°50'00"S, 146°00'26"E along the Victorian coast to the north.
Pipi Open Area 4
The Pipi Open Area 4 is contained within the coordinates of 38°50'00"S, 146°07'22"E and 38°51'35"S, 146°10'00"E along the Victorian coastline.
Victorian Pipi Fishery Management Plan
The Victorian Fisheries Authority has commenced a process to develop a fishery management plan for the Victorian Pipi Fishery.
A Steering Committee has been formed to provide recommendations and expert advice in relation to the development of Victorian Pipi Fishery Management Plan (FMP) and to ensure that the FMP conforms to requirements of the Fisheries Act 2009 and Ministerial Guidelines.